This Christmas Day, in true Colorado fashion, my family went on a hike in the balmy 50 degree weather that the Front Range is so often blessed with. Dozens of other families were out hiking, running, and generally walking around, giving credence to Colorado's status as one of the healthiest states in the nation. Nothing major, just a couple miles in the Wonderland Lake area in Boulder before getting back home and eating an obliterating amount of food.
On Christmas Eve, however, this Coloradan did something a little less healthy and a little more fun. With my sister and girlfriend in tow, we drove up into the foothills above Boulder near Sugarloaf Mountain on to the Peak to Peak Highway straddling Nederland and Ward. Nederland  (or "Ned" as the douchiest ski bros in Boulder will sometimes call it, as well as, to be fair, a good number of locals), a town famous for its Frozen Dead Guy Days festival, was the kick off point as we drove north on the Peak to Peak Highway and veered off on Boulder County Road 120J. 
County Road 120J is the southwestern part of the multi-purpose Switzerland Trial, most of the northern sections of which run on Forest Service Road 93. It's an easy trail, but the Jeep-and-ATV-packed snow gave it a twist that made things a little more exciting (and smoother) as we set down the path. The trail is well tended to, and though we saw no other Jeeps or hikers coming or going on the trail other than at the parking lot towards the end of 120J and at some ruins later on, there had clearly been many vehicles on the gravel and dirt road in the days prior. Taking on this trail midday on Christmas Eve made for a quiet, low-stress casual drive through the forest and mountains heading into the Rockies. 
We took turns driving my stock 2017 Jeep Wrangler Unlimited on various stages of the trail which made for a fun change in perspective as one of us would sit in the passenger seat and one in the back trying to limit our backseat critique of how close to the trees some of us (not I) were getting.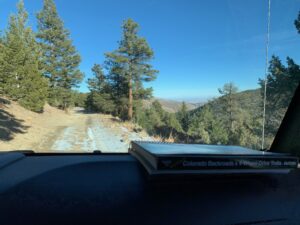 Often we'd follow along on what has quickly become one of my favorite books, FunTrek's Guide to Northern Colorado Backroads & 4-Wheel-Drive Trails (4th Edition), an incredibly well-put together manual for some of my part of Colorado's best Jeep trails.1Hey, FunTreks, consider this endorsement a pitch to get a Nevada edition as well. Couldn't help but notice you skipped right from California and Arizona to Utah and Colorado, totally ignoring the Silver State… Each trail in the guidebook is rated with thorough notes on what kind of vehicle modifications (or if you can run it in a stock 4×4 vehicle) you might need, the best time of year to go, what to expect at each relevant mile marker, and where the hidden gems are. Ruins of old mining towns, camping sites, fishing spots; this book really has it all and I cannot recommend it enough. Having a guide and map like this is invaluable (especially if you remember to set your trip odometer right when you start) in making sure you stay on the right path and don't veer off onto one of the multitude of side trails. One of these, the Pennsylvania Gulch, is a shortcut on the Switzerland Trail which, and is rated as difficult but is probably doable in a stock Jeep, barring the snow on the ground.2When we were on the trail it was blocked off, presumably closed for the season. 
The 14-mile trail takes you along the side of Bald Mountain down into the tiny ghost town of Sunset along Fourmile Creek before you ascend back onto the trail and follow an old railroad grade around Mount Alto which eventually curbs back around to what is now the Mount Alto Picnic Area. The picnic area was formerly a destination along the railroad and had a fountain and a Chautauqua hall, but now only a chimney and a bit of foundation remains. The National Forest Service has put together some picnic tables and fencing which we drove around before ultimately moving on towards the end of the trail. The prospect of an old train working its way through these mountains makes for some astonishing context as you crawl through the woods on the mountainside in your four-wheel drive vehicle.
The north end of the trail will spit you out on Gold Hill Road (County Road 52), where you have an option to continue north across the street to an additional section of the trail which the FunTreks guide calls "Switzerland North" and distinguishes from the regular Switzerland Trail because of its increased difficulty. 
Not prepared to head up into a more difficult section as the sun started setting and well able to make our way back down into Boulder from Gold Hill, we turned off and made our way down the mountain. We stopped briefly to assist a stuck car,3The paved roads on the way down were clear of snow but there were mid-sized snowdrifts on the sides of the road which a Fiat was stuck in, having presumably pulled off to the side of the road. And look, no shame, but why are you driving a Fiat in the mountains in December? our good deed for the day, and descended into Boulder Valley. As we made our way back home through the foothills, there were areas of the forest on the sides of the road still visibly burned from the Fourmile Canyon Fire of 2010. If nothing else, a reminder not to take these natural spaces Colorado is so privileged to have for granted.
There are stunning views along the trail; even in the dead of winter, the mountain and valley views made for a great trip for beginner off-roaders. No part was too technical, nor was there any particularly difficult section or place one could conceivably get lost with a good trail guide. We lucked out in terms of the day we went as there was just a small covering of snow, with it melted away on the sun-facing bends. The trail would likely be significantly more difficult and might be unpassable had there been a recent storm, but would be easily handled in the summer. Summer drivers should be wary that some sections may require some careful maneuvering around vehicles coming the opposite direction, but any stock high-clearance SUV would be able to manage the road in dry conditions.
With a leisurely pace, it took us about two to three hours in all, including a few stops to step out and take pictures and a minor detour to see how aggressively we could climb the Jeep up a dry but steep side road. If you're in the Colorado Front Range and looking for a stress-free introduction to off-road driving, or just a long trail to wind along, the Switzerland Trail is an easy and picturesque route well suited to any kind of driver.