This may come as a surprise to those who know me as the floofy-haired, pencil-skirted, red nail-polished vintage-vixen-wannabe I present as today, but I was a pretty frumpy lady up until high school.

I mean, I remember wanting to embody the stereotypically feminine essence of beauty when I was very young (in fact, I was pretty miffed when my mom wouldn't let me wear proper high heels to my first communion), but a combination of budding body dysmorphia, early puberty, and general adolescent awkwardness caused me to shun and shame that desire for a good many years. Instead, I spent the majority of my adolescence hiding away in cargo shorts, baggy t-shirts, and New Balance sneakers. Slowly, and over many years, I began to chip away at my insecurities to find my way back to my Hollywood starlet self. The first step along that journey began with the Christmas present of a 32-pan generic brand eyeshadow palette that, while stiff and poorly pigmented, contained every color imaginable and let me mix and match my way back to my expression of femininity.
It was a similar journey that led me to purchase the Ere Perez eyeshadow palette in Gorgeous. After dating a couple guys who were rather vocal about their distaste formakeup, I shunned the majority of my cosmetic collection to appear as favorable to their ideals as possible (Pause: I was also in a very unhealthy mental space when I made that decision. Girls and boys, promise me that you will never allow someone's personal and unbidden opinion to influence the way you feel about or express yourself. Promise me.). A few months and a whole lot of soul-searching later, I realized how very much I missed makeup and resolved to get back in the face-painting game by purchasing a few new eyeshadows in delicious, warm-toned browns.

I did a little research online and then bused my way down Wisconsin Ave to one of my favorite beauty shops, Take Care, to pick up the aforementioned Ere Perez eyeshadow palette. Now, a few months, several wears, and a formidable sense of self later, I am ready to share my review.

The Brand

Ere Perez is an Austrailian brand that formulates "green beauty" (in other words, their products are free from ingredients that may be unfavorable to your health or irritating to certain skin types, such as parabens, synthetic fragrances, mineral oil, etc) skincare and color cosmetics. Their formulas include natural oils, minerals, and plant extracts to create gentle yet effective make-up solutions.1Disclaimer: I near exclusively purchase green beauty makeup and skincare products, so this brand profile is going to be more or less the same for every product I review.X
The Product

Ere Perez eyeshadow palettes retail for $40 each (yes, I buy boujee makeup. What about it?). The four different palettes represent four different "color stories" in a blend of matte and shimmer shades. Each palette's six shadows total six grams of product.

The Packaging

The palettes come in a sleek, white plastic compact. The lid snaps open to reveal a decently-sized mirror on the back of the lid (a highly-prized commodity in the world of makeup) and six magnetic makeup pans. The packaging's stark, angelic beauty brings to mind the white sand beaches on which Ere Perez was born.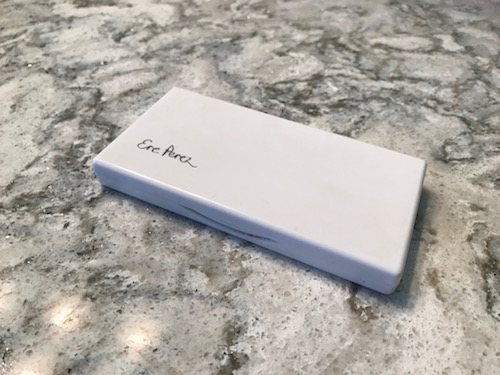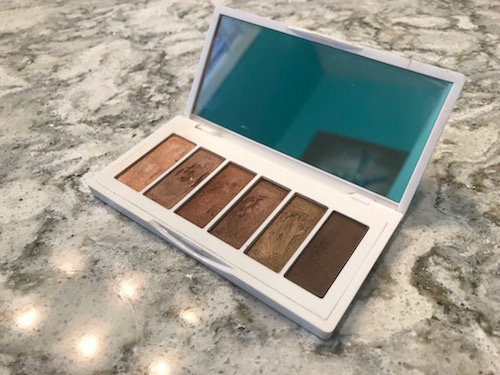 The compact is also refillable, and each individual eyeshadow pan can be removed from its magnetic slot in the base of the compact. Ere Perez sells single-shadow refills for its palettes at $15 a pop (one of the most competitively priced green beauty singles on the market) so you can restock your compact or, alternatively, purchase single pans if you are not interested in any of the complete color stories. Though Ere Perez does not sell empty compacts, you can keep singles in a Z-Palette or, you know, just loose on your vanity under a bunch of other makeup and jewelry and post-it-notes and things.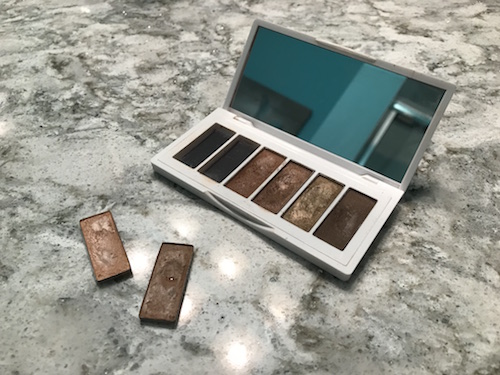 Compact with two single pans removed.
The Colors

Alrighty, we've arrived at the fun part…

As I mentioned, the Ere Perez palettes come in four different color stories that range from peachy neutral to vintage rose to seductive brown. The palette I purchased was in the range called "Gorgeous" and contains three matte and three shimmer shades in what the website describes as "earthy tones." Basically, it's a bunch of warm browns that have golden, olive, and/or red undertones.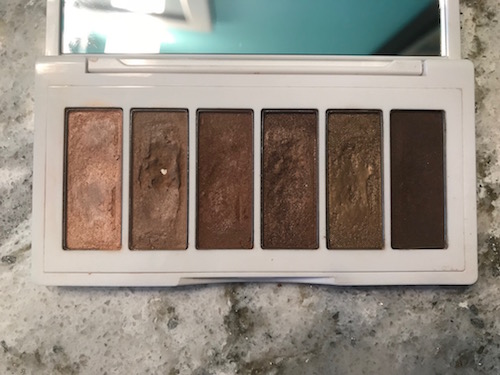 Colors from left to right: Aylin, Fay, Ana, Kat, Vicky, Estelle.
Now, Ere Perez pays professional marketers to write enticing descriptions for each of its product shades that I could copy and paste here to give you a feel for what we're dealing with in this palette. However, I am also a professional marketer who is not particularly enthralled by the descriptions Ere Perez's professional marketers have written, so I thought I'd give them a little zhoosh.

Below I have listed the names of the six colors in the Gorgeous palette from left to right along with their texture (matte or shimmer), my superior description of their colors, and my favorite way to use the color.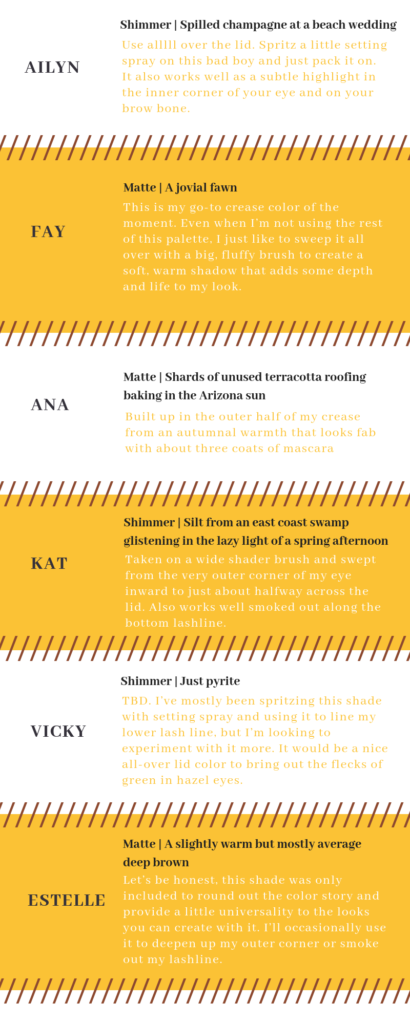 The Formula

Ehhhhhhh…

I have to be honest, I have a very hot and cold relationship with the formula of this product.

When I saw the palette in person, I went ga-ga over the presentation of the colors in the compact. They appear rich, vibrant, and wholly unique but, upon doing a few finger swatches in the store, my enthusiasm fell flat. Swatched dry with fingers onto an unprimed base, the shadows felt stubbornly lacking in blendability and pigmentation.

However, when I asked the lovely sales rep at Take Care her thoughts on the palette, she not only assured me it was a great choice, but also offered to give me a free mini makeover so I could see the colors on my eyes. Not one to turn down a free beauty-related anything, I readily hopped onto the salon chair only to slide off a few quick minutes– and brush strokes– later with a delicately daring smoky look that breathed of dew-spotted autumn leaves and look damn fine with the leather jacket I was wearing (it would have looked damn finer beneath the house lights at the 9:30 Club, and I mentally kicked myself for not having an indie concert to flutter my warm-toned eyelids at that night).

But here's the thing: She used the shadows wet. And, let me tell you, that is key.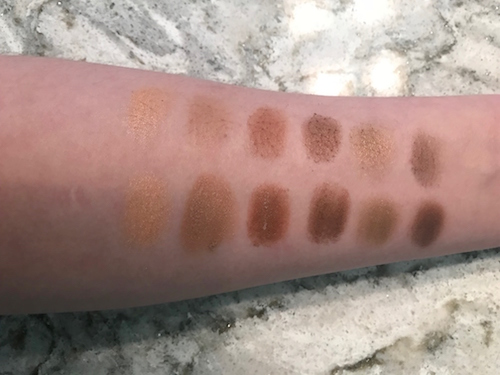 The above swatches were applied in two layers with heavy pressure. Top row is swatched dry, the bottom row is swatched wet. From left to right: Ailyn, Fay, Ana, Kat, Vicky, Estelle.
Any time I try to use these shadows dry, I become immediately frustrated by the formula's crumbliness and the pigmentation's lack of "umph". Spritz on a little water or setting spray, however, and you've got a shadow that's going to deliver all day long.

Now, even wet, I would definitely not call the formula of these shadows "buttery" or "smooth" or even easy-to-blend. These shadows need to be worked with and you need a little patience and practice to figure out how to use them best. Yes, you can absolutely achieve a quick look by wetting your makeup brush and heavily patting on a couple of the colors, but, for a look with a little more nuance, you'll have to get to know the palette both wet and dry and have a variety of different eyeshadow brush sizes and shapes on hand to help get the shadows to do what you want them to.

I was a little frustrated the first few times I used the palette because I wanted a super easy slap-it-on-my-eye formula that looked good no matter how much time I had (or didn't have) to craft mylook. Still, despite my vexation, I found myself picking up the palette again and again to use one color or another. On days I didn't pull at all from Ere Perez Gorgeous, I found myself grimacing at my look in the mirror thinking, "This would look a lot better blended out with a little Fay" and "I should have warmed up the crease with Vicky". And, the more that I've played with the palette, the more I've fallen in love with it, discovering new ways to combine the colors and integrate them into looks with other shadows from my makeup bag. Heck, I've developed such a soft spot of the shadows that, the whole time I've been writing this review, I've been eyeing the "Lovely" palette on the Ere Perez website, wondering if it's worth an impulse buy.

The Look

Here's the quick step-by-step guide for achieving one of my favorite eyeshadow looks that uses the entire Ere Perez Gorgeous palette.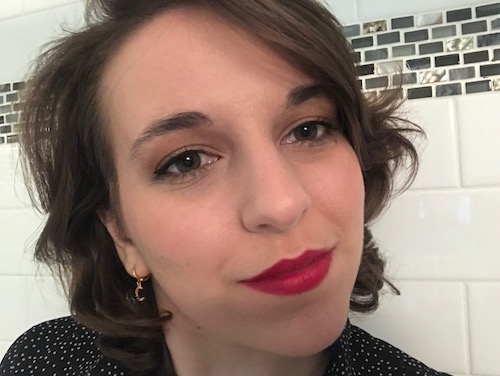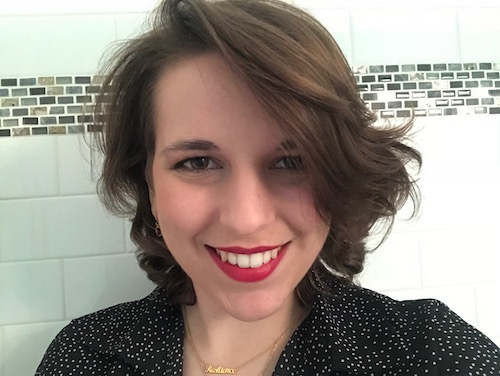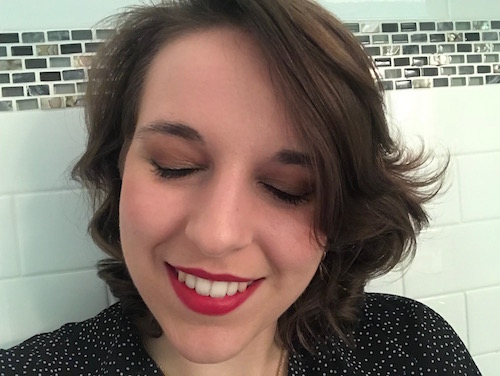 Start by buffing Fay into your crease using a fluffy blending brush.
Pat Aylin onto your entire lid using a wide shader brush spritzed with a little water or setting spray.
Take Kat on that same brush and apply it from your outer corner inward on the outer half of your eyelid using a patting then swiping motion. Use a bit of Aylin to smooth out the transition of color on the center of your lid.
Grab a bit of Ana on your fluffy blending brush and buff that into your outer crease. You can go back and forth with Ana and Fay to smooth out the color gradient in your crease, as well as with Ana and Kat to smooth the transition from lid to crease color.
Wet a short, flat eyeshadow brush and grab a bit of Estelle. Pat this onto your outer "V", going back in with a little Kat to blend out the color.
Using a small, tightly tapered liner brush, work Estelle into the outer third of your lower lash line.
Take Vicky with the same liner brush and finish lining your lower lash line.
Finish off the look by picking up Aylin on your blending brush and blending it along the top edge of your crease color and your brow bone.
On the rest of the face:
100% Pure 2nd Skin Foundation in Shade 4
W3ll People Bio Correct Multi-Action Concealer in Light
RMS Beauty "Un" Powder
Zuzu Luxe Blush in Sunset
100% Pure Fruit Pigmented Luminizer in Rose Gold
Essence Make Me Brow Eyebrow Gel in Browny Brows
Stila Stay All Day Waterproof Liquid Eye Liner
Lily Lolo Mascara
Rituel de Fille Forbidden Lipstick in Written in Blood
The Takeaway

The clean ingredients, refillable packaging, and array of colors get an A++ in my book, but I will say that this is palette is not for makeup newbies or those who want a quick and easy look. It's not that you need to be a makeup aficionado (trust me, I am not one of those) to enjoy the palette, but I do recommend that those who purchase it have patience and interest in working with colors and formulas. Ere Perez Gorgeous is a fabulous palette that offers a lot of possibilities, but it does require a little getting used to.