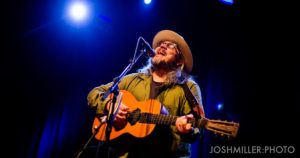 There's a part in Let's Go (So We Can Get Back), Jeff Tweedy's excellent memoir released last year, where he discusses Wilco's collaboration with Billy Bragg on the Mermaid Avenue albums, a trilogy of records featuring the two artists playing the unrecorded music and lyrics of Woody Guthrie. Apparently, Bragg told the press that he chose Wilco for the project because he thought they were the "ultimate Midwest Americana red-dirt-band," and, according to Tweedy, he never would have agreed to take part if he had heard that comment at the time. 
That response didn't necessarily surprise me when I first read it: Tweedy's always been one for humility and self-deprecation and doesn't seem like the kind of person comfortable with receiving that level of praise. Bragg's description of the band, however, did surprise me because "red dirt" is not exactly the adjective that comes to mind when I listen to A.M. and Being There, the two Wilco albums released before Mermaid Avenue. Both albums certainly pull from country and Americana, but they hardly sound down-home and gritty. That's probably why, according to rumor, Bragg first asked Jay Farrar, the half of Uncle Tupelo that took to refashioning Depression-era folk songs for a Gen X audience while Tweedy moved in a Replacements-influenced direction, to take part in the project.
While I'm still not sold on the idea of Wilco being the "ultimate Midwest Americana red-dirt-band," I am convinced, after seeing him perform at the Lincoln Theatre in Washington, DC, that Jeff Tweedy is an American treasure and, perhaps, his generation's greatest folk singer. This is not to suggest that his music is "folksy," per se — that would limit the expansive sound he's cultivated throughout his career — but he is the best thing his generation has of the everyman raconteur variety. His stage show is a blend of his surreal and heart-on-his-sleeve ballads bookended by his audience-baiting, self-deprecating jokes that bring to mind a heartland humorist.
For some members of the audience, this humor seemed like a bigger attraction than the songs, themselves. I briefly talked with the couple sitting next to me and asked if they'd read Tweedy's book (they had not) and the man asked, half smirking after taking a sip of his mixed drink, if it talked about "that trademark Tweedy banter." I don't remember what I said in reply (probably something along the lines of "kinda"), but, while this question didn't rub me the wrong way, it did seem to draw a bit of a dividing line between myself and some of the older (as in between the ages of 30 and 40) attendees. These were the people more likely to yell stuff at the stage, mostly song requests, but sometimes attempts to engage in little comedic back and forths with Tweedy. I've always hated it when people do this. I hate the song request thing because it feels like the musical equivalent of catcalling: do you really expect an artist to drop their pre-planned setlist just because you've shouted out the name of your favorite song? And I've always felt that people who try to provoke artists into funny back and forths are doing it to gratify themselves. Even though they shelled out however much money to see someone on stage do all the talking (tickets for this show were going for well over $100 on StubHub), they've decided that tonight is their time to shine, their time to soak up the spotlight and become the center of attention. There's nothing about these two things that isn't selfish or demanding. There's a difference between this and cheering or whooping or clapping, things that help communicate how much you appreciate what you're watching; you aren't flattering the artist by letting them know that you're unsatisfied with their song selection. When you do something like that, you're making it all about you, and I wish artists were a little more confrontational in the way they handled this kind of thing.
I've always read Tweedy's relationship with his audience as being a little strained and uneasy, at least in the sense that we seem to like him to a degree that he isn't comfortable with. The most illustrative example of this comes from a moment in I Am Trying to Break Your Heart, Sam Jones's fan favorite documentary about the tumultuous recording and release of Yankee Hotel Foxtrot. There's a sequence that takes place backstage during one of Tweedy's solo acoustic shows where he meets and shakes hands with a group of record store owners and other beaming well-wishers who surround him as if they're expecting him to perform some Christlike miracle. One of them asks if the upcoming record will sound "more like A.M., or more like Summerteeth," before grinning dumbly as if he asked the right question in class and is expecting a gold star. "It's really not much like either one of those records, I don't think" Tweedy replies somewhat pensively. After saying that there are a lot of "drums and holes" of the yet-to-be-released songs, a woman quips "So is Courtney Love on them?" Tweedy follows up with "There's a lot of open spaces between what's supposed to be the music part. I don't know. I'm gone," before leaving the green room with the stream of admirers following behind.
Tweedy's discomfort is palpable throughout these exchanges, and Jones's choice to intersperse this moment with a performance of "Sunken Treasure" ("I am so/Out of tune/With you") seems to send the message that there's a clear disconnect between Tweedy and his fans, and that he's grown weary of the glad-handing that goes into an album release cycle. And at the point in his career captured by I Am Trying to Break Your Heart, he'd have reason to be. Yankee Hotel Foxtrot was rejected by Reprise Records for seemingly inexact reasons (the accepted version of events is that they didn't hear a single they could push to radio, which was still a major concern for bands of Wilco's ilk in the early 2000s) in what could be seen as a culmination in a series of label-related follies that followed the band in their early career, and Tweedy and Wilco multi-instrumentalist Jay Bennett's working relationship was growing tenser by the day. It wasn't exactly an easy time to be Jeff Tweedy, and from arguments about setlists to "playfully" slapping away someone's hand as they go for the band's green room pizza, you can see little cracks in his patience throughout the documentary.
Combine this shy portrait with the surrealness of much of his songwriting from this period, and it gives the impression that Tweedy never loved being famous or having fans, an attitude I read into most things he did, from the interactions captured on live album Kicking Television ("Kansas City!" one patron yells. "Thank you, thanks for coming from Kansas City," Tweedy replies. "Now be quiet. How dignified is it to come from Kansas City to Chicago to see Wilco?") to the creative trajectory of his discography, which strayed further and further from it's alt-country roots into more experimental territory before coming full circle and embracing "dad rock" in the latter half of the 2000s. He's a guy who wants to make the music he wants to make without outside interference. Is that so much to ask?
Lately, I've been thinking that I may be a little too harsh on people like the guy I sat next to at the concert and the guy from the I Am Trying to Break Your Heart clip. Part of the appeal of seeing one of your favorite artists live in concert is the promise of spontaneity. No longer just a voice coming out of a speaker or a figure in a music video, they're a flesh and blood organism capable of reacting to stimuli, and, rather than just seeing them run through a setlist they've been playing for years, you want to see them do something you're not used to seeing them do. Jeff Tweedy engaging in "trademark Tweedy banter" is the kind of thing you'll only be able to experience if you see him or Wilco live, so it makes sense to relish it.
In Let's Go (So We Can Get Back), Tweedy and his son and bandmate Spencer discuss how an artist's self-perception rarely changes at the same rate as an audience's perception of an artist. In other words, a musician who's viewed as a god by his fans may still feel like some Rust Belt kid playing for a couple bucks at a local club, no matter how many theaters he sells out or how much good press he gets. This creates a power dynamic that Spencer suggests Tweedy isn't always perceptive of, and his glib comments on fan behavior could end up affecting people more than he realizes. So maybe Tweedy, cognizant of his role as an entertainer and the power he holds over people who've paid to see him perform, has decided to give the people what they want and play along, and maybe, even though I wish he'd push back against them more than he does, I overestimate the power he has over fans because he does have the kind of power over me. Perhaps I'm not the coolly detached critic I thought I was.
Whatever the true nature of Tweedy and his fans' relationship, some unspoken tension regarding his setlist did seem to exist. Jeff seemed torn between his professional obligation to play the hits (a caveat of professional musicianship that he also touches on in his memoir) and his seeming desire to focus on songs from his 2018 solo album Warm. Considering this was my first time seeing Tweedy, solo or otherwise, I initially thought that I'd want to see him play a bunch of Wilco classics to make up for lost time. But I soon realized that maybe I didn't necessarily need to see him play solo acoustic versions of songs like "Heavy Metal Drummer" or "I Am Trying to Break Your Heart" simply, because, well, they only translate so well in a solo acoustic setting, and this sometimes awkward transfer very much felt like Tweedy checking boxes instead of playing what he wanted to play. Warm is an incredibly sensitive and personal album about family, death, addiction, and legacy, and the gravity of those songs was felt when played live. Even "Some Birds," a song I was sure would feel incomplete and underwhelming without a full band, lost none of its emotional poignancy in its skeletal form, and, in fact, soared to new heights when Tweedy hit the higher notes in the chorus. Other standouts like "Bombs Above" and "I Know What It's Like" delivered as expected, but it was around "Let's Go Rain" where you could feel a little bit of a divide between Tweedy and the crowd of Washingtonians. "Let's Go Rain" is an apocalyptic campfire song and should've made for a perfect singalong moment. Tweedy encouraged us to join in on the chorus, but I got the sense that most people didn't know the lyrics. After the first time the chorus rolled around and garnered a timid effort, Tweedy quipped "that's the part where you come in," and people kind of nervously laughed, unsure of what to do.
But, for the rest of the set, the audience was eating up everything Tweedy served to them, and he seemed to feed off of that, in his own half-joking way. That Tweedy can open up a set with surreal murder ballad "Via Chicago" to ravenous applause and then deftly transition to the sentimental and romantic "Remember the Mountain Bed" without a shift in enthusiasm or engagement is a testament to his skill as a performer and the high regard his fans hold him in. After running through a main set that spanned his entire career and all of his projects, Tweedy returned for an encore that saw him walk the line between giving the crowd what they wanted and reasserting control. He kicked it off with a raucous version of "Passenger Side" (which I would've enjoyed a lot more if a guy sitting down the row from me hadn't been yelling for it all night) before moving into newer songs "Family Ghost" and "Don't Forget."
It was during "Misunderstood," though, that the crowd's respect for Tweedy became more evident. If you've ever heard the song or seen it performed live, you know that it tends to end with a series of unhinged screams of "NOTHING! NOTHING!" and, given how loud some people in the audience started to get as Tweedy approached the coda, they were expecting this kind of a crescendo. But, as they began to raise their voices, Tweedy ever so slightly shook his head, and in an instant they became quieter to meet the level of the man on stage, whose delivery was firm but not exactly aggressive. "I want to thank you all for nothing at all," the song ended, as it always does. But given the night and Tweedy's wicked sense of humor, you have to wonder if he didn't pick this song for another reason, as if its final lines were his final jab at the audience. He gave us what we wanted, sure, but it certainly didn't come at the expense of entertaining himself.