Do a quick Google Images search of Julia Jacklin and you'll find an Aussie in her late twenties, frizzy-haired, and dressed in plaid mini skirts. She's often captured staring blankly into the camera, stationed sometimes before flora, sometimes in tackily furnished living rooms, but always in the softly faded film style authentic to the 90s and now artificially reproduced for budding indie artists across the late 2010s. But don't let the fashionable aesthetic fool you into writing Jacklin off as yet another sad-eyed, guitar-bearing kid posting their Sadboi™ tracks to Bandcamp. Her twee appearance is but the sugar that helps her unique brand of aching honesty go down. Well, that, and her angelic musicality, of course.
Jackin's inconspicuous, almost childlike (when you consider the nifty matching outfit sets and delightfully dorky dance moves featured in many of her music videos) persona is a light and sweet compliment to the bitter ganache that's swirled throughout her music since her first album Don't Let the Kids Win released in 2016. Jacklin was certainly the kind of kid that liked to sit in the back of the class, watching her peers rather than the lesson, mulling over moments from her day, and scribbling revelations beyond her years into the margins of her notebooks. In fact, we heard a decent amount of Jacklin's musing's on her childhood in Don't Let the Kids Win with reflective tracks such as "Pool Party," which is a smattering of memories from her childhood, and the title track, which Jacklin has said is about the changes a family goes through as the children grow older. Even in 2017, "Cold Caller" struck listeners with quarter-life-crisis concerns of responsibility ("Will I be a mother or will I always be a child") and adulthood (Can someone please tell me what that screaming means? / And not say, "Wait 'til you get older"?) concealed in a light, bouncy melody.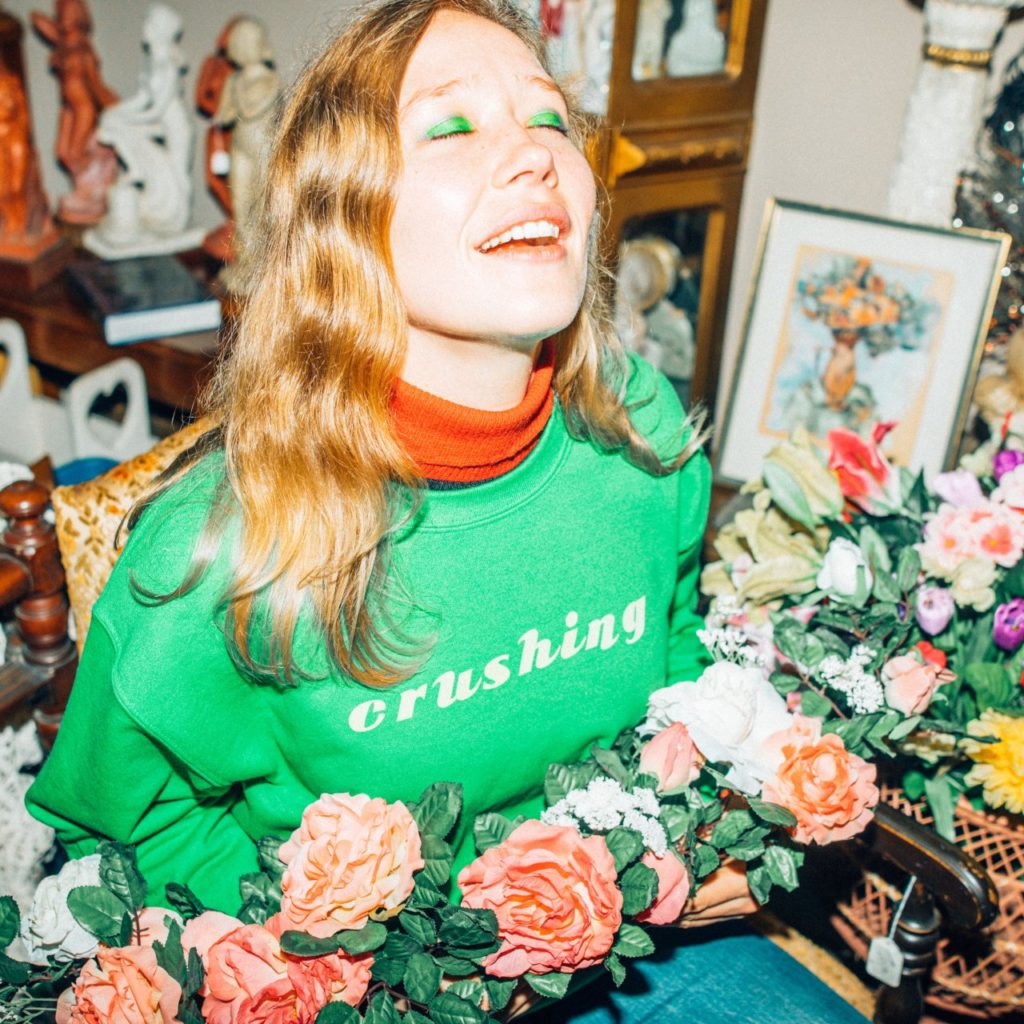 Jacklin's 2019 release Crushing is just as contemplative as her earlier work, but there's less of a rosy tint to its sonic reflections. Rather, there's a presence to her words, an immediate gravity that pulls and releases the listener with each up and down of Jacklin's emotional journey.
Perhaps this is because Jacklin wrote many of Crushing's tracks while on tour supporting Don't Let the Kids Win and, as such, wrote them about the experiences of the moment: life on the road, the demands of the music business, and even a relationship she was in at the time. In a studio performance with Paste Magazine, Jacklin said she entered this album feeling "I didn't have space to myself or control over my life," a sentiment undoubtedly present across the first five songs on the album, all of which feature mentions of bodily autonomy through the lyrics: "I guess it's just my life/ And it's just my body," "I don't want to be touched all the time/ I raised my body up to be mine," "Pressure to feel fine after the fact/ Out on the dancefloor with my body back," "But you know my body and I know yours," and, finally, the subtler nod, "You know it's bad when the family flies in/ Just to stand by your side."
This running theme of bodily autonomy in a female songwriter's album may initially make Crushing appear to be a battle cry for feminism, but, in an interview with Junkee, Jacklin made it quite clear that wasn't her intention stating, "After we finished the album, I probably listened back to it like two weeks later and I was like 'Huh. Okay. You've referenced your body in the first five songs. That's interesting Julia. What's going on?'".
Jacklin actually declined the suggestion to title the entire album "Body" to avoid inviting incorrect assumptions about its intention, saying "I just felt like that it was going to open me up to all these questions about 'My Body' and 'Feminism', which I'm up for talking about most of the time, but I didn't want to bring even more of that into my own world."
While the album would have been pure gold regardless of its name, the title Crushing actually did the music a favor by having no direct connection to the content of the songs which, in essence, are a collection of heartbreak stories. Each song on its own serves as an isolated narrative to be savored slowly like a peppermint candy, while, together, they're a smorgasbord of flavor and experience that detail the many emotions– both expected and otherwise– that can arise from a single scenario.
Take, for instance, the album's first two tracks, "Body" and "Head Alone." Both cradle the aforementioned theme of bodily autonomy within their lyrics and play reference to the demands of a lustful music industry and its ever-hungry consumers, but the approaches both songs take are vastly different. "Body" begins the album in a somber haze or, as Jacklin called it, "a very long and exaggerated sigh". You can almost feel Jacklin slipping beneath the surface of her chosen profession, her head too heavy from the endless days of writing and performing and touring, and giving herself, unfeelingly, to the current of its expectations and desires. "Head Alone," however, comes out swinging with a resilience and power Jacklin describes as "the musical equivalent of me just throwing my arms wide open and running into an empty carpark and screaming at the sky." This primal energy exhaults in the song's final couplet "Yeah, I'll say it until he understands/ You can love somebody without using your hands," acting as a redemption anthem for the desolate and dreary Jacklin that constructed its predecessor, "Body."
Of course, like most acclaimed albums, Crushing also contains tales of the classic heartbreak that comes when two people who were previously in love find themselves to be in love no longer. Rather than taking the place of the sorrowful breakupee whose love has been cut off at the knees, Jacklin explores the experience of being the breakuper, the one who's done the slicing.
In "Don't Know How to Keep Loving You," perhaps the most wrenching song on the album, she humanizes the decision to break up with a romantic partner by reminding us that the post-split feelings of confusion, regret, and pain exist on both sides of the fissure. Delicately rueful lines such as "I wanna want you, I wanna stay here like this," "I want your mother to stay friends with mine," and "Who will I be/ Now that you're no longer next to me?" knot our throats and remind us of the immense and wieldy sense of loss that breaths down our neck as we consider parting ways with someone we have experienced so much with. This song is immediately followed by the soft piano ballad "When the Family Flies In," which speaks of the social bonds that provide support during particularly devastating times. It also contains one of my favorite lyrics on the album due to its actually unpoetic honesty: "Oh, the last thing that I sent to you/ Was an irrelevant music video/ And I'll always wonder if you ever watched it." The consideration almost seems childish and as irrelevant as the music video itself apparently was, but who among us has not made a gesture just as small that, after the fact, becomes drenched in relevance and mystery?
But for every day or two you reel over a breakup, there's a moment when you feel ecstatic, lively, and free, and Jacklin captures this singleton's jubilee in the humorous "You Were Right." The track acts as a sassy hair flip to Jacklin's ex-beau and narrates the reclamation of her independence by coyly and perhaps even scornfully enjoying many of the things he used to tell her to like but, this time, without his permission to do so.
Though only 10 tracks long, Crushing feels as thorough and intense as the two years or touring, love, and self-discovery it was written during. The tracks carry the reader through moments of franticness ("Pressure to Party"), sobriety ("Convention"), anguish ("Good Guy") and back again (especially if you're like me and have been listening to it on eternal repeat). It's a moving reminder of the often contradicting depths our bodies contain and how we can be released to plummet through their levels at a moment's notice.