Photo credit: Capital Gazette
If you've ever been to a Michaels craft store you know how… much… it is. We're talking beads of every shape and color, scrapbooking materials for the most obscure memories, birdhouse-building supplies (because that's apparently a real hobby), Ireland's entire sheep population in the form of colorfully spun yarn, an entire wall full of that puffy paint elementary schoolers decorate t-shirts with, and, like, glitter glue.
The entire store smells of artificially produced pumpkin spice no matter what time of year it is, unless you're in the scented candle section, that is. Everything there just smells like a migraine waiting to happen.
And the people? Oh, don't even get me started on Michaels' clientele. They're strange and obscure and absolute anomalies to the world outside of those electronic sliding doors flanked by flourishing displays of artificial flowers. But one thing's for sure: inside those doors, they're at home.
Now, let's take everything you know about Michaels and give it a twist.
Instead of aisles of various art supplies, I'd like you to imagine tightly-packed wooden stalls brimming with hand-shaped leather goods, intricately-crafted jewelry, rainbow-colored hats and hairpieces, spiritually-charged crystals, billowing dresses, medicinal herbs, and polished wooden trinkets. Instead of synthetic cinnamon, the air is rich with the cool earthiness of moist dirt unless, of course, you're standing near the food vendors. In that case, everything just smells fried. And the people? Goodness gracious, the people…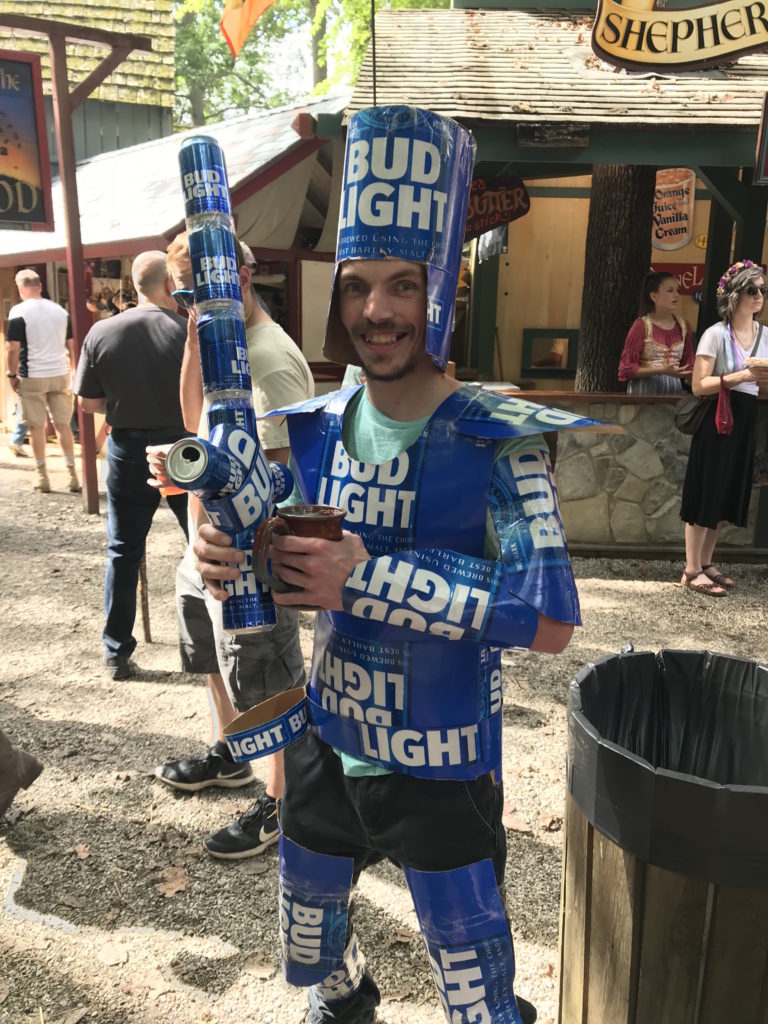 Kings and queens break bread with court jesters and lowly peasants. Fairy princesses flit about with demonic pixies while porcelain-painted acrobats nod in greeting to steel-plated knights. If you take a Where's Waldo? eye to the taffeta and linen-encrusted crowd, you might even catch Louise from Bob's Burgers, any one of Marvel's iconic heroes, or even the Bud Knight from the 2018 Super Bowl commercial.
Much like the scrapbookers and birdhouse builders of Michaels, this collection of characters would be misfits on any old street in any old city. But, amongst the turkey legs and flower crown displays of the Maryland Renaissance Festival, they reign supreme.
This was my first time attending a Renaissance Festival.
Sure, I had heard of these so-called "Renn Fests" before, and I even thought they sounded exciting, but I never expected to find myself at one. Not until my Maryland-born-and-raised friend revealed that she had been attending the Maryland Renn Fest for as long as she could remember and asked if I would want to go with her. And, um, yes. Yes, I did. My only condition was that my friend not toss me to the wolves, but show me how to fest-it-up like a seasoned professional. If I was going to Renn Fest, I was going to Renn Fest right.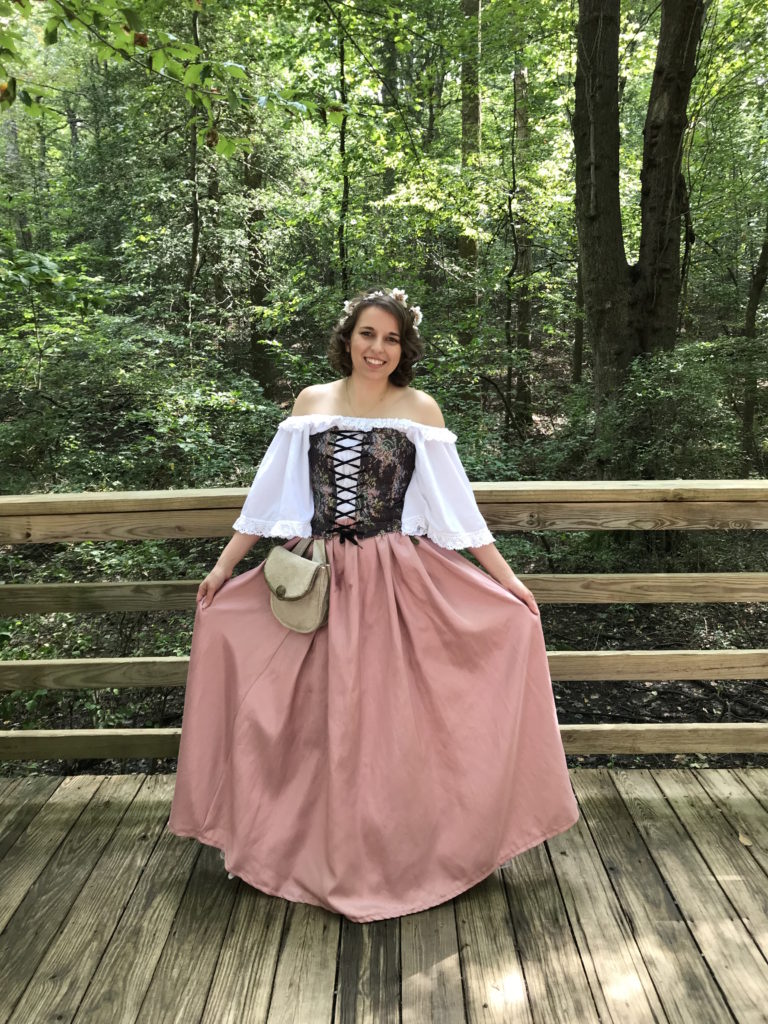 Luckily, my friend is not only a Fest-enthusiast, but she's also a crafter-extraordinaire (like those Michaels folks I mentioned before) and a master seamstress. Without a second thought, she reached deep into her costume closet (yes, she has an entire closet full of hand-crafted costume pieces) and pulled out a delightful dusty rose skirt, white off-the-shoulder top, and floral bustier and helped me pick out a matching flower crown. She wore a palette of greens and golds which featured a hand-beaded bustier and a homemade witches hat that several women at the fair tried to buy off of her (I was so proud of her skill, she sheepishly ducked out of the admirers' greedy reach).
Upon entering the grounds of the Maryland Renn Fest, I told my friend that I wanted to do whatever she usually did here. Sure, there were plenty of vendors and shows to see, but– as was evident by my insistence of coming fully-costumed– I wasn't here to be a spectator. I wanted to live the festival.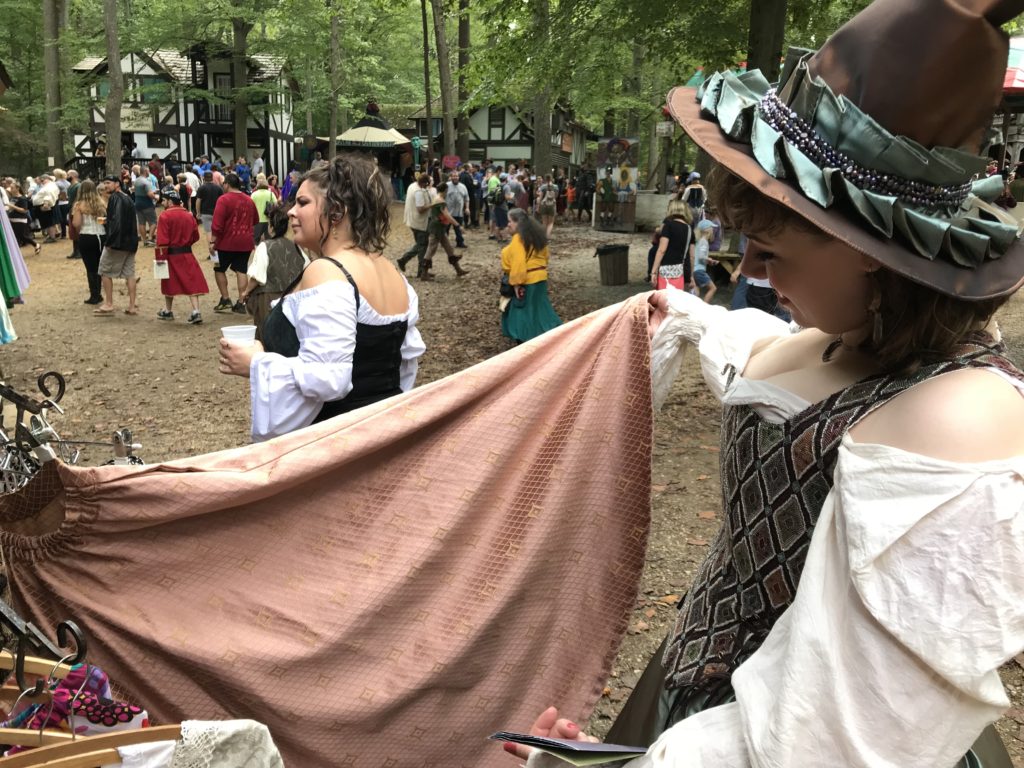 My friend was on a quest for a snood for another renaissance costume she was planning (she'll attend the fair twice more this year), so we faithfully bounced around to her favorite costume vendors in search of the net-like hairpiece while feeling fabrics, commenting on colors, and collecting inspiration for future outfits and costumes for the both of us (I was mulling over a Halloween-appropriate angel of death costume that would incorporate real [fake] bones as the boning in the corset and a real [fake] feathered smokey eye a la Black Swan, but my dear friend regretfully stated that I look too friendly to pull off something like that).
Beyond successfully scoring the appropriate snood, the day was highlighted by our pick of any of the fair's highly fried and salted foods (my friend went for the infamous Renn Fest turkey leg like a champ while I embarrassingly resigned myself to a simple bratwurst sandwich), and an exquisite and highly resonant tarot reading with the Morgan Greer tarot (a fabulous deck for anyone who likes traditional depictions of the arcanas but is looking to expand beyond the steadfast Rider-Waite).
So, what were my takeaways?
I couldn't help but comment on how textured the entire fair is. The fairgrounds, itself, seamlessly transitions from packed dirt openings to coarse gravel walkways to worn wooden decks to the expansive green forest beyond us. All the shops and stalls are wooden, but they're overflowing with molded leather, a variety of different fabrics, silver and gold jewelry, tacky beeswax candles, dried herbs, bright, plastic toys, and far more.
All around us, fair-goers munched on stringy turkey legs and flaky funnel cake and creamy cheesecake-on-a-stick while others sipped at sweaty bottles of water, crisp pints of beer, and frothy cups of frozen lemonade.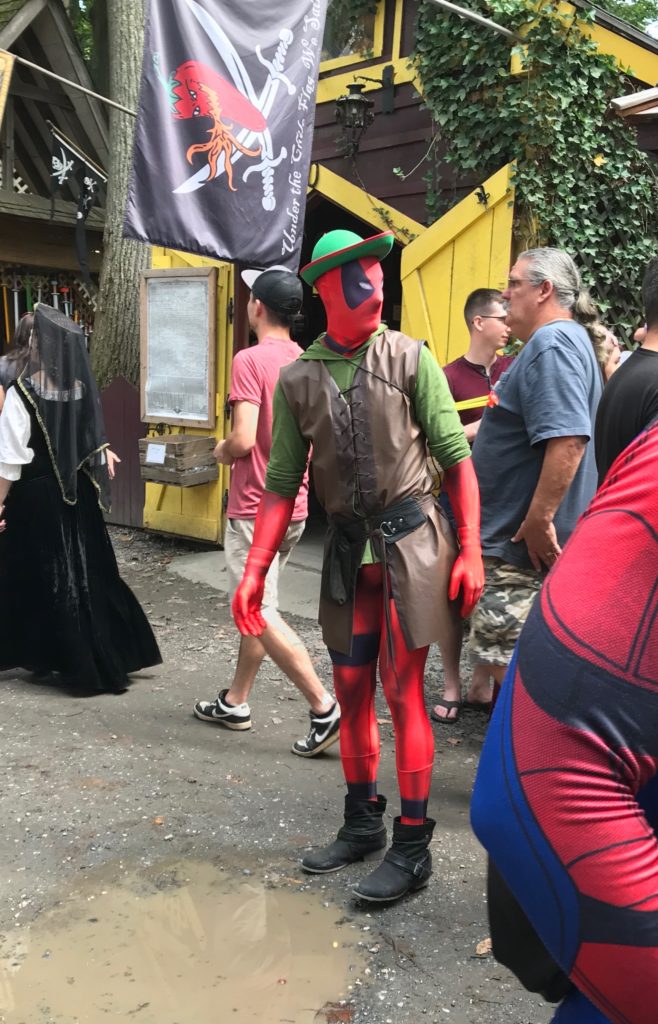 The outfits, some of which I've already described, ranged from highly modest head-to-toe shrouds to skimpy leather… things. Of course, the vast majority of the crowd wore regular-old street clothes, but some swayed their garb toward the renaissance era by wearing a discrete peasant blouse or inconspicuous broomstick skirt. Others played to the theme by putting their Deadpool costume inside of a Robin Hood costume.
Most subtly, but perhaps most importantly, was the energetic texture that came with the fair-goers attitudes. Some, like the little girl who gazed in awe at my friend and whispered "She's a princess," brought a shimmering sense of wonder and excitement. Others navigated the crowd with the grit of sandpaper, side-stepping patrons on their way to the very specifics entertainment they came to see. People like my friend moved like water, comfortably lost in the dream world coming to life right before their eyes. And, finally, there were those like the quirky jewelers and virtuoso crocheters, those kings and queens of the Renn Fest who wore their costumes like their own skin and engulfed the day in an aura of sunlight the luxurious embrace of satin.