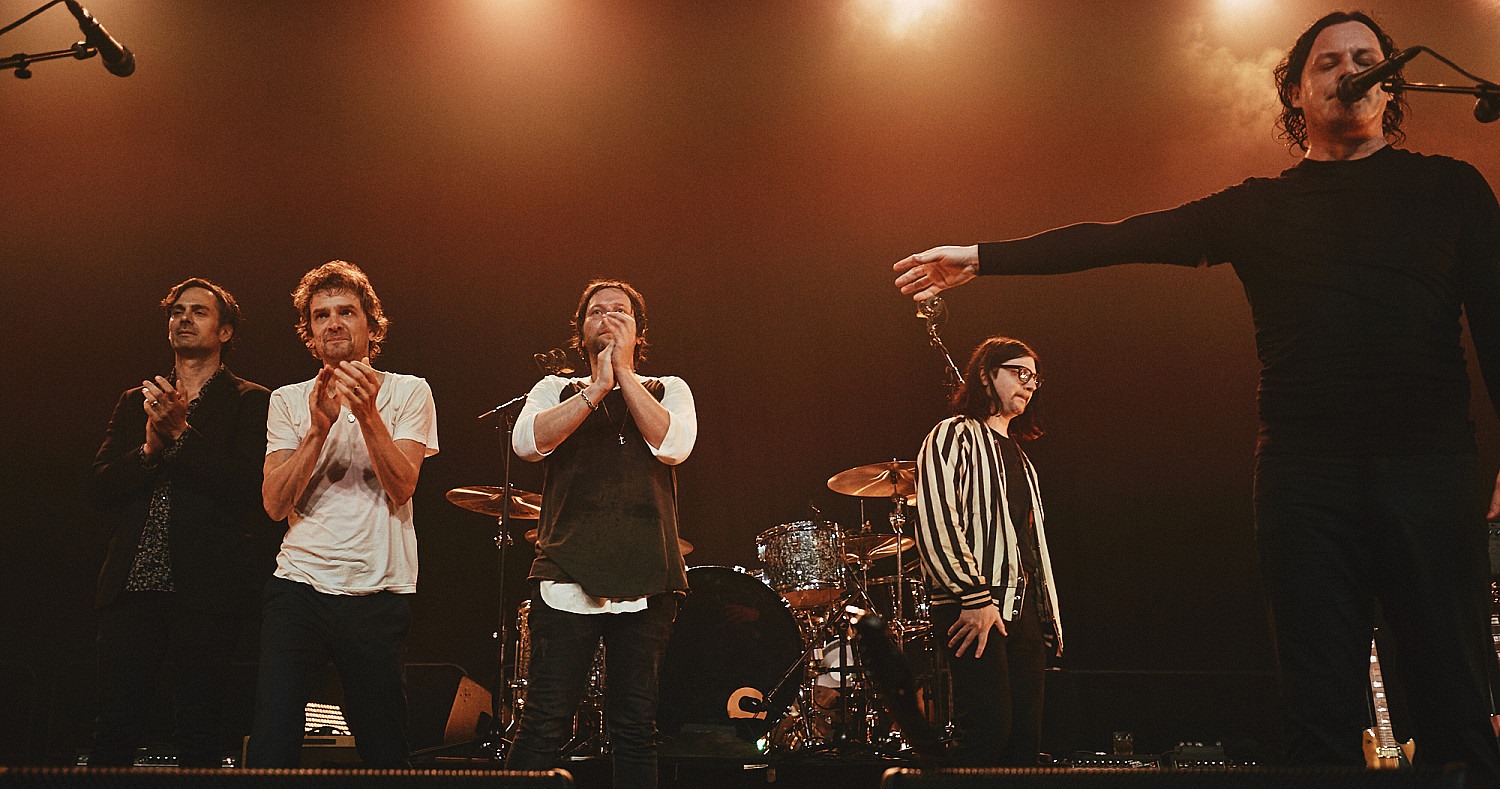 What intrigued me most about seeing The Raconteurs perform at The Anthem was the prospect of observing Jack White — my favorite artist and a man whose solo show I've seen three times — operate as part of a unit rather than the unquestioned centerpoint of the show. Even when he was performing with The White Stripes, his only competition was that of his shy, taciturn drummer/ex-wife Meg White (read: not much competition at all). In nine out of ten Jack White performances, he's the man people come to see, and he knows it. 
That point was evident enough when I saw him at this same venue last year. The projection screen at the back of the stage displayed a studio with a clock counting down to showtime. Eventually, a giant Jack White came on screen to start fiddling with the time, sometimes adding more, sometimes taking it off– all to toy with the emotions of the crowd who voiced their corresponding rapture and displeasure. It felt like a video you'd watch while waiting in line for a ride at Disney World, not only because it entertained you while something that you think shouldn't take too long takes too long, but because it treated its subject like the lead in a franchise– more mascot than man. Blown up onto a massive screen and serving as his own title card, White was no longer just some guy you paid good money to see sing and play guitar. He was a character, a larger than life entity whose presence was meant to carry a mythic quality. He was, in other words, a rock star.
Turns out being one of four members of a band does little to take the spotlight away from White or his corresponding mystique. While bassist Jack Lawrence and drummer Patrick Keeler hung back like most rhythm sections do, and guitarist/co-lead singer Brendan Benson didn't stray too far from his mic, White bounced around the stage, poking and prodding at both his bandmates and the audience to reach his level of energy and excitement, which manifested itself in mad dashes back and forth across the stage and his rambling, old timey DJ comments between songs.  
Like I said, I've seen White a couple of times in concert, and he's delivered every time, but I don't know that I've ever seen him happier on stage than I did last Saturday night. For as curmudgeonly as White's antipathy for the press and modern technology can make him seem and despite his (now waning) commitment to musical asceticism, do not be mistaken how much this man enjoys his job and how good he is at doing it. 
And don't be mistaken by how vital a Raconteurs show can feel in 2019, either. The kind of band The Raconteurs represent — a hi-fi, big budget rock act with more interest in The Kinks and Tom Petty than, I don't know, Suicide or The Beat Happening — may be much rarer these days, but, while they may be getting older, they're not obsolete. 
If The Anthem wasn't sold out on Saturday night it was pretty darn close to it, and the crowd was possibly the loudest I've ever heard. The Hold Steady, Titus Andronicus, and Parquet Courts draw rowdy and interactive audiences, sure, but I've never heard so many women straight up screaming in my ear like The Beatles had just touched down at JFK. I've also been to a few shows by artists past their commercial and critical peaks who all but admit they're nostalgia act and have to explicitly acknowledge their fans don't want to hear the new stuff; this was not one of those shows.
Instead, the band's set served as a persuasive reminder about the strength of their catalogue and even helped some of the more suspect songs from their new album Help Us Stranger take flight. On record, "Don't Bother Me" and "Hey Gyp (Dig the Slowness) sound like jam sessions in search of a song; on stage, those exact qualities make them exhilarating displays for the band's chops. "Born and Razed" and "Sunday Driver" already sounded tailor-made to be blasted out a car stereo, and those exciting, visceral qualities were only heightened when performed live. Classics like "Steady, As She Goes" and "Level" were amped up and lengthened for maximum Jack shredding and singalong potential, and "Blue Veins" featured probably the best guitar solo I've ever seen live. 
As a purist, the pedal-to-the-metal-approach, admittedly, didn't always feel like an asset — rich and dynamic songs like "Old Enough" and "Top Yourself" were flattened out and robbed of their rootsiness by the group's relatively straight forward composition, while others like "Many Shades of Black" and "Broken Boy Soldier" were conspicuously absent — but nearly every song managed to be rousing and thrilling no matter what other elements were sacrificed in their translation to stage. That seemed to be the whole point, after all. Even when they were performing ballads like "Only Child" and "Now That You're Gone," it was clear that the band's goal wasn't to communicate or achieve some level of emotional complexity. Instead, it was to revel in the sheer exuberance of making music and celebrate the kinds of cool sounds that four guys who clearly enjoy each other's company can wring out of their chosen instruments.
There's certainly an argument to be made that such an approach is self-reflexive and self-aggrandizing, like a magician applauding his own magic tricks. Peyton Thomas alleged as much in his review of Help Us Stranger for Pitchfork. Negatively comparing The Raconteurs to another supergroup, Thomas points out that the kind of emotional rawness and resonance found in a song like boygenius's "Me and My Dog" (specifically the line "I cried at your show with the teenagers") is nowhere to be found on The Raconteurs' new record, and that they "would never lower themselves to the level of their audience." This is a fair point, and it succinctly sums up what separates musicians from White and Benson's generation and those of Lucy Dacus and Phoebe Bridgers's (and, I guess, my) generation: the former aspire to be godlike rock stars, the latter achingly relatable citizen songwriters. 
It also sells the power of rock stardom short. "Somedays (I Don't Feel Like Trying)" may lack the literary heft of a Julien Baker song, but it's hard to argue that its chorus — a straightforward recitation of "Somedays, I just feel like crying/Somedays, I don't feel like trying" — won't resonate with an overworked and mentally taxed audience. And, by the time the band reached the coda, and a crowd of thousands began shouting "I'm here right now, I'm not dead yet" to a stage bathed in orange light, I wasn't worrying about whether or not the rich and powerful Raconteurs were lowering themselves to my level. Instead, I was thankful that they were elevating me to theirs.