Lip colors have been the bane of my makeup bag since the very beginning of my makeup-wearing days. From texture to tone to staying power, it seems like they're the hardest product to get right, and, when they're wrong, there's no working with them. You can't blend them to oblivion like you would an off-color foundation, powder them down like an oily concealer, or spritz them like a chalky eyeshadow. If it's not working perfectly, it's stuck to your teeth, bleeding outside of your lip line, sticking to your hair, making your teeth appear yellow, etc. etc. etc.

For a while, I just gave up the fight and resigned myself to colorless lip balm, but, I'm a fighter at heart, and if the cause is lipsticks, then the cause is lipsticks. So, after a little time on the benches, I've come back swinging with a test run and review of Kosas Makeup's Color Trifecta Weightless Lip Color Trio.

The Brand

Kosas1 For those curious, the name "Kosas" comes from the Sanskrit word "koshas" meaning "sheaths" or "layers." In the yogic tradition, individuals are believed to be made up of five koshas of energy: the physical body, energetic body, mental body, wisdom body, and bliss body (these are the things you learn interning at a yoga studio in college). According to their website, Kosas Makeup aims to "cultivate beauty on every level." X is a Los Angeles-founded green beauty brand that aims to take a
zero-waste philosophy to your makeup bag. Founder Sheena Yaitanes found herself overwhelmed by the oversaturation of the beauty market by unnecessary items, and set out to create the bare necessities of beauty in shades that suit every skin tone.
Yaitanes began by creating a concise and universally flattering lipstick line that took Instagram by storm in 2017. Her line incorporates more blue, yellow, and red undertones into its shades to safely stray from beige tones that typically fall flat on the face. Kosas's product line has since expanded to include both powder and cream blush-highlighter duos and a lightweight foundation formula.

The Product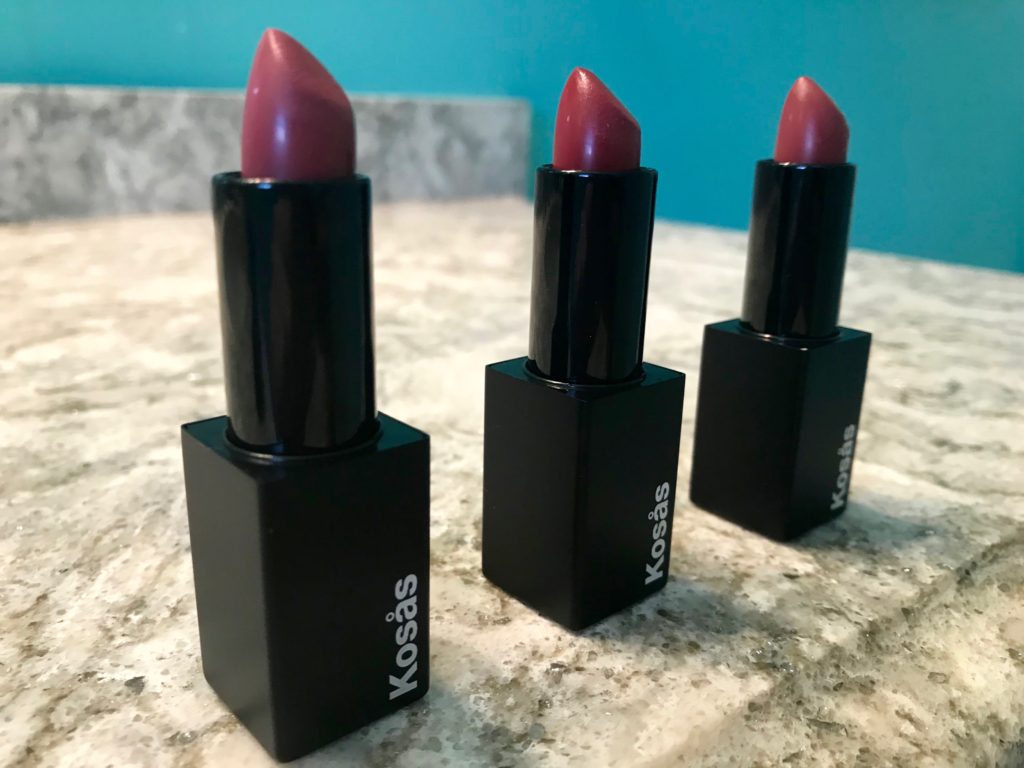 Kosas's inaugural product, Weightless Lip Color, retails for $28 a tube and comes in 8 different shades and, at the time of this writing, a 9th limited edition color. I received the Color Trifecta Weightless Lip Color Trio, a limited edition set, which contains three full-sized lipsticks in Kosas's best selling nude shades and retails for $58 (that's $26 less than buying each of the colors individually). While the trio set is limited edition, the colors within it are standard within the Weightless Lip Color line and can each be purchased individually.

The Packaging

The Color Trifecta Weightless Lip Color Trio comes in a lightweight cardboard box designed by fashion and beauty illustrator Regina Yadzi. The lipsticks themselves come in the standard, highly sleek and modern black rectangular Kosas lipstick tubes. The plastic is lightweight but sturdy and contains a magnet closure on the lid that makes for a satisfying "click." The bottom of the tube twists to push the lipstick bullet upwards, like most traditional lipsticks.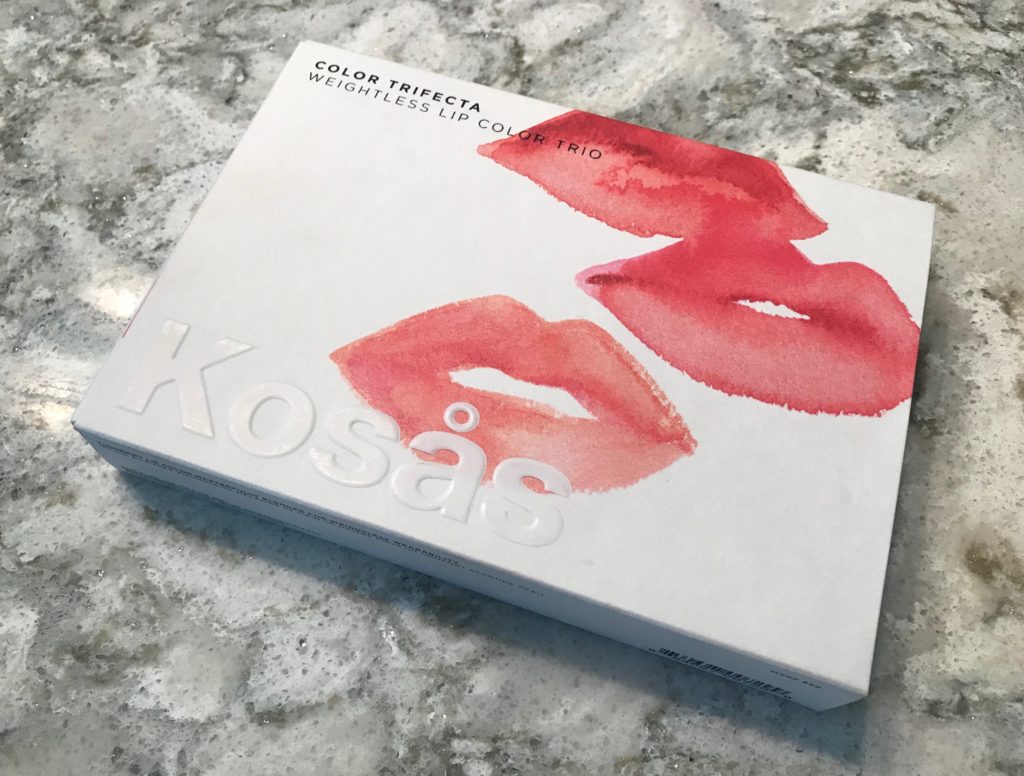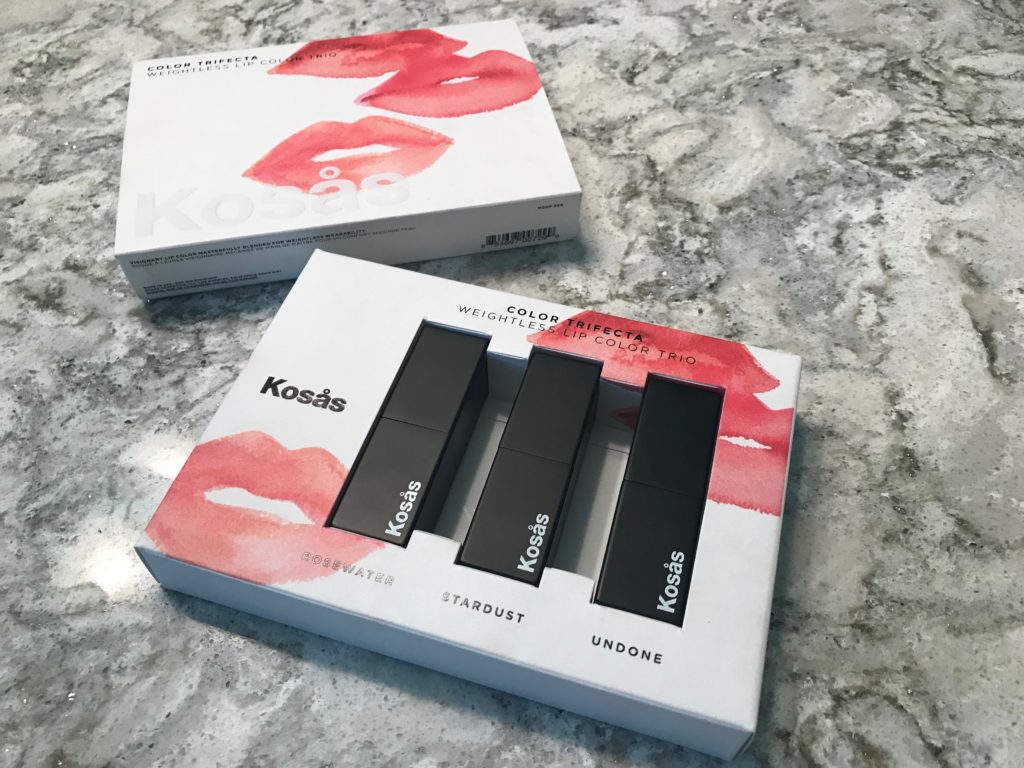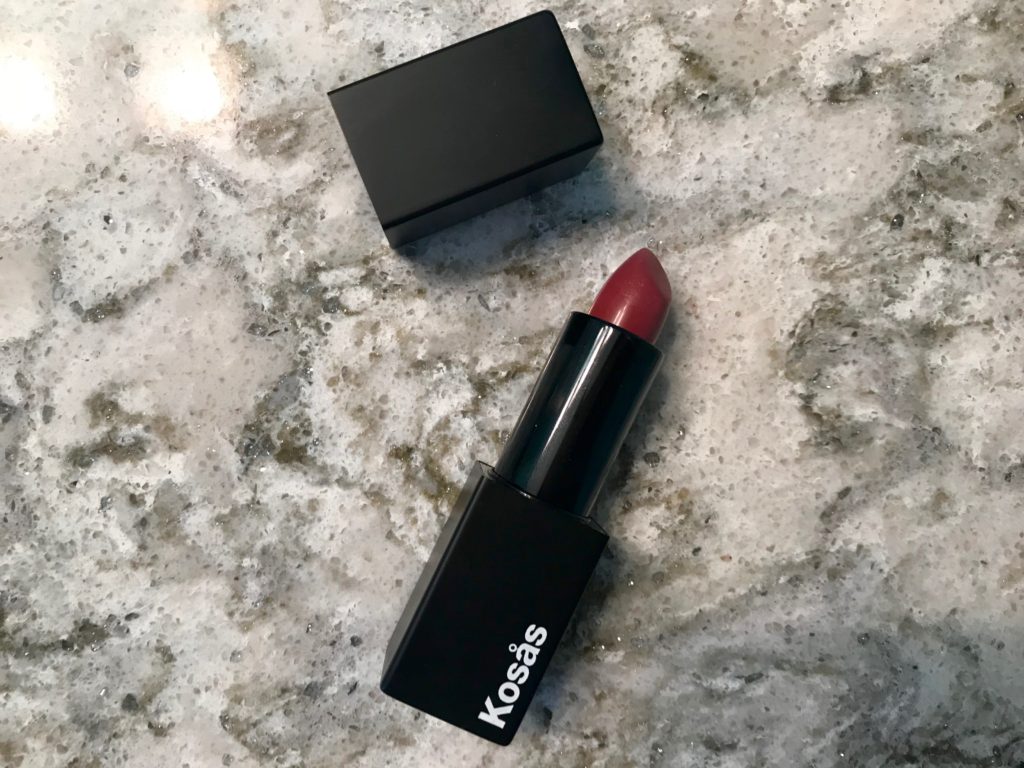 The Colors

"Hello gorgeous!" is truly and embarrassingly what I said to myself upon swatching each of these delicious, spicy nudes. Normally when I look at pre-arranged makeup sets, there's usually at least one color I'm not really into. This is far from the case with the Color Trifecta Weightless Lip Color Trio. Each color sets down to a soft matte finish and is highly-pigmented, highly-flattering, and highly versatile.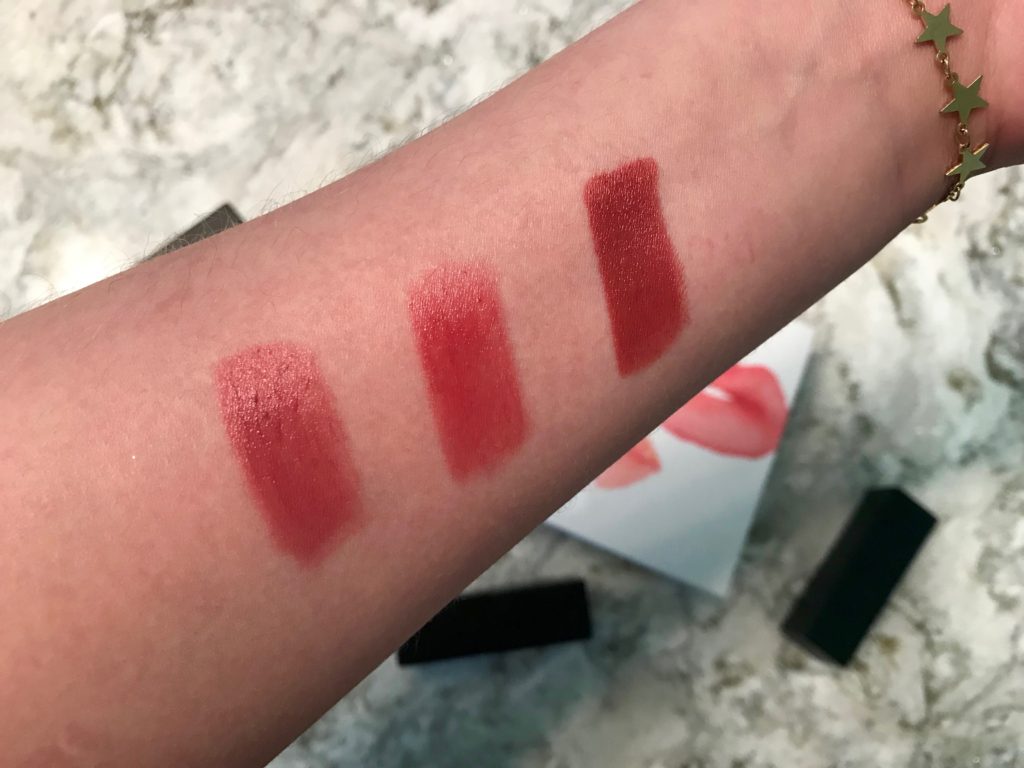 Of course, the Kosas website provides their own descriptions for each of the colors but, I'm going to regale you with my own account of the shades, as well as offer just one of a thousand looks that would pair well with each shade.

The Formula

Heaven in a tube.

Seriously, Kosas's Weightless Lip Colors have the creamiest, silkiest texture of any lipstick I've tried, green beauty or conventional. It's like rubbing the taste of hand-churned honey butter onto your lips. The color glides right on, too, in a saturated tone that matches the color in the tube (that's right, no pigmentation surprises here) and does not slide around your lips while you're wearing it. Instead, it sets in a creamy texture somewhere between a matte and satin that does not dry out your lips. In fact, it's far more comfortable than many lip balms. If my lips were parched, I'd be far more likely to reach for one of these saucy little sticks than any of the balms I've collected over the years.
Many pictures of my face modeling (from top to bottom): Rosewater, Stardust, Undone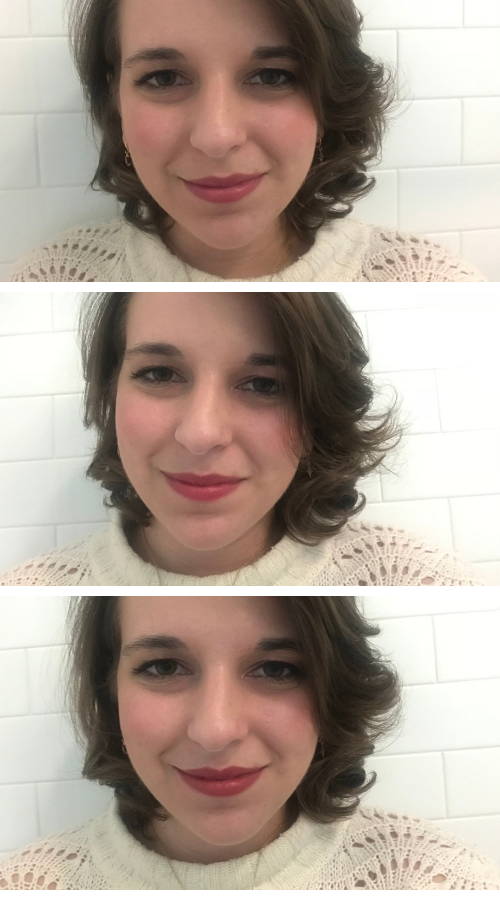 The Takeaway

Will Kosas be my one and only lipstick brand like the founder intended? Well, seeing as I'm of the belief that "more is more"… no, probably not. But that's a testament to my need for exploration, not a suggestion that Kosas Weightless Lip Colors are lacking in any category. Nope, nope, nope, this product is stellar across the board. Nuff said.

Next Up From the Brand

In addition to wanting to try more shades of the Weightless Lip Color (I'm looking at you, Electra), I'm currently playing around with/forming opinions on one of Kosas's powder Color & Light palettes.