And just like that, what was once the largest primary field in modern history, became what it was always probably destined to be: a slug fest between the moderates and the left, personified respectively by former Vice President Joe Biden and Vermont Senator Bernie Sanders. In the days before Super Tuesday, the legions of moderates behind the recently dropped out candidates Minnesota Senator Amy Klobuchar and former South Bend, Indiana Mayor Pete Buttigieg coalesced behind the former vice president, with former New York City Mayor Michael Bloomberg joining them shortly thereafter. The only other notable further-left-of-center candidate in the race, Massachusetts Senator Elizabeth Warren similarly dropped out after Super Tuesday but has yet to endorse either Sanders or Biden (Klobuchar, Buttigieg, and Bloomberg were all quick to endorse Biden following the suspension of their campaigns). The game theory of the Democratic primary that split the more liberal voters on Super Tuesday while unifying the moderate ones allowed Biden to come away with a sizable lead coming out of Super Tuesday.
Within a week, Biden went from being an underdog to favorite with a nearly 99% chance to  secure a majority of delegates and thus, the Democratic nomination for president. Sanders' probability of becoming the nominee has shrunk to lower than 1%, coming down off a high of nearly 50% following his victory in the Nevada caucuses. Though Sanders hardly has a window to win the nomination now, the nation and media at large have been quick to note the similarities with 2016 primaries. Biden being perceived as more moderate and accessible to Republican voters than Hillary Clinton (and his fellow candidates throughout this primary) and Democrats being more eager than ever to find someone they deem electable both point in his favor. And Biden seems on a path to follow a similar trajectory as Hillary Clinton's 2016 primary campaign against Sanders by building a moderate coalition of Democrats that are more southern, more diverse, and older than that of Sanders' supporters.
With these two candidates left,1Yes, Tulsi Gabbard is still in the race, for the <1% of you who constitute her polling average and two earned delegates so far. the primary has come down to a slug fest between two demographically similar candidates (though their supporters are dramatically different, more on that later). We talked in our last check-in on the state of the vice presidential picks after Iowa and New Hampshire about how Sanders and Biden are very similar in what they each bring to the table as a nominee: white, male, septuagenarians with over 25 years in the federal government who are both from very small and very liberal leaning states. This means their strongest vice presidential matches will likely be similar, and indeed, on comparison, they share many of the same top ten picks, most of whom we talked extensively about in our last piece (since they've been the front-runners in the tracker for some time now, as Biden and Sanders have been the most likely nominees for months): Senators Kamala Harris, Tammy Duckworth, Mazie Hirono, and Catherine Cortez Masto, as well as former Obama Secretary of Housing and Urban Development (and 2020 presidential candidate) Julian Castro. Ohio Congressman Tim Ryan is creeping up in the rankings due to the increasing favorability for Democrats in the generic ballot. Oregon Governor Kate Brown also appears on both of their top ten picks, as does Minnesota Senator Amy Klobuchar, the very same Amy Klobuchar who just endorsed Biden, how interesting. 
One major new addition to the tracker, New Mexico Governor Michelle Lujan Grisham, has already made a sizable impact as the absolute strongest pick for Sanders and in the top four for Biden. Lujan Grisham is a very strong vice presidential candidate compared to these two because of her demographic and regional strengths, as well as her combined experience both as a member of Congress and as a governor. Her exclusion in the original listing of potential VPs was a clear oversight on our end, and she's ranked number three overall between the candidates.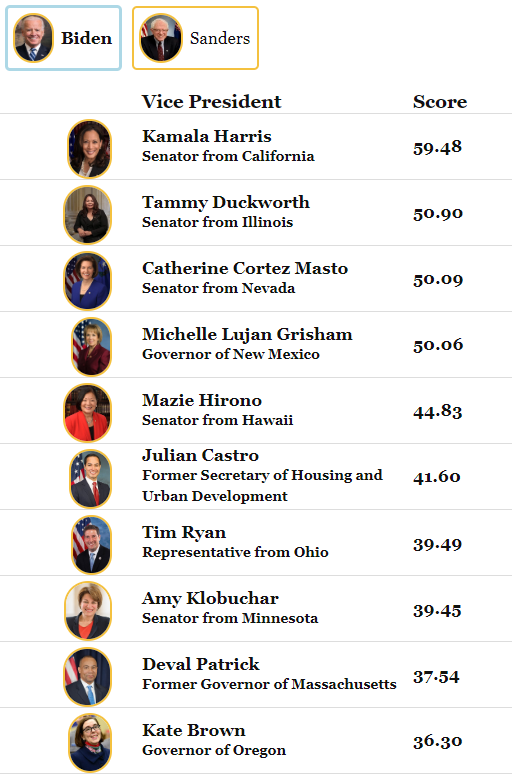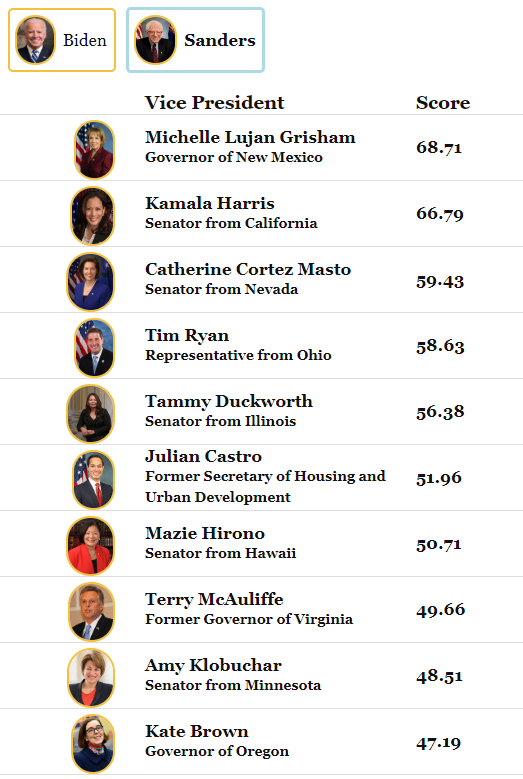 Where Biden and Sanders differ, they do not do so dramatically. Sanders does not have former Massachusetts Governor Deval Patrick due to them sharing a region (both are from New England), and Biden misses out on former Virginia Governor Terry McAuliffe because Sanders' and McAuliffe's cumulative experience in federal and non-federal positions add to a 21.31 differential over Biden's. This is because they're almost exactly at the correct balance of federal and non-federal experience between them. 
Between the two of them, Biden and Sanders each have seven women rounding out the top ten, and seven candidates who are non-white. Four of the candidates are from the Far West region and two are from the Southwest. It appears the tracker is favoring geographic and demographic diversity over the competitiveness of states, as only three of these candidates are from states currently within the competitiveness metric: Cortez Masto of Nevada, Ryan of Ohio, and McAuliffe of Virginia. If the race does tighten, New Mexico and Minnesota are on the threshold, so Klobuchar and Lujan Grisham could see their numbers improve even further.
From here on out, as the odds have refined between the two candidates, there won't be a lot of upheaval unless the generic ballot shifts (these shifts at the margin end up making a large difference, being able to put Ohio or Georgia in play and not have to worry about defending Virginia or Colorado is a huge potential factor in selecting a competitive running mate); but stay tuned for further analysis on who our likely VPs will be and what they individually bring to the ticket.
Other Updates
We have dropped Bloomberg, Buttigieg, Klobuchar, Steyer, and Warren from the tracker as they have each dropped out — er, ahem, suspended their campaigns. Though we may work on an at-large tool for Democratic presidential candidates using our VP pick database that lets you play around with possible nominees for fun in the future.
Now that we're in the endgame now, I will begin researching how to build out the tracker to be slightly less broad. My gut instinct tells me Sanders is unlikely to pick a staunch moderate as a running mate, as he seems more ideologically "pure" than Biden, who might be more inclined to search for a more left-leaning vice presidential pick. There are a few variables I thought about adding in the initial tracker but cast aside for lack of time or out of desire to keep the tracker as broad as possible such as an ideology scale, a more nuanced VPKeySeat metric, or an endorsement discounter (if a potential VP has already endorsed someone, they're less likely to be picked by the opposing camp, for example). If this gets rolled out you can expect a separate methodology piece and explainer on that.
There is still some fluctuation amongst the various picks' strengths as the generic ballot adjusts, Democrats now have a seven point tailwind in their favor, which may make some states more in reach (Ohio, R+7; Georgia, R+12) and make others less necessary to defend (Colorado, D+1; Michigan, D+1) than they were a few weeks ago.
Per the note above, I have added New Mexico Governor Michelle Lujan Grisham to the tracker, as both she and Florida Representative Val Demings (also added) have both been mentioned in some recent speculative press about possible vice presidential picks for both Biden and Sanders. Lujan Grisham skyrocketed towards the top of the pack.