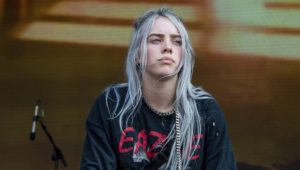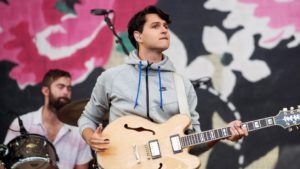 (Photo on the left by Amy Harris/Invision/AP, Right by Ross Gillmore/WireImage)
The other day, a coworker of mine posted this preview of Vampire Weekend's new album Father of the Bride by Mikael Wood in a slack channel, and I gave it a read. It's a pretty standard and enjoyable look at the making of a highly anticipated album, but there's one passage that caught my attention and caused me a bit of distress, and no, it's not just because the LA Times uses quotation marks instead of italics for album titles:
"'Father of the Bride' [sic] isn't total dad-rock; it's got weird beats and processed synth sounds and samples of tracks by Hans Zimmer and the Japanese electronic musician Haruomi Hosono — evidence of the 'adaptability' that led promoter Craig Nyman to book Vampire Weekend as one of the few rock acts (alongside Post Malone and Billie Eilish) [emphasis mine] at September's Life Is Beautiful festival in Las Vegas."
Referring to Post Malone and Billie Eilish as "rock acts" requires a very broad and expansive reading of the genre. While Post Malone has publicly praised Bob Dylan, played an acoustic guitar on stage, criticized the emotional range of rap music, and recorded a song called "Rockstar," he is very clearly not a rock artist. The vast majority of his catalogue is completely void of guitars, a bass and drums rhythm section, or any other of the more basic identifiers of rock music, and nearly every major publication that classifies music, from Allmusic to Billboard, sort him firmly into the rap camp. The only other place I found that refers to Post Malone as a rock artist is Wikipedia, which cites this article and, presumably, the sentence "We have a feeling his rockstar days of 'fuckin' hoes and poppin' pillies' have just begun," which is clearly just a reference to the lyrics of "Rockstar," as proof.
Eilish has a more convincing case as a rock artist, but I'm still not sold. Her debut full length, WHEN WE ALL FALL ASLEEP, WHERE DO WE GO?, spent three weeks sitting at number one on the Billboard Alternative chart, which, yes, according to Billboard's table of contents, is considered a "rock" chart, but Billboard has a history of misclassifying artists of her ilk. For instance, both of Lorde's albums have also topped the Alternative chart, but I think you'd be hard pressed to find anyone who isn't a Billboard employee argue that either artist has much in common with chart-mates Panic! At the Disco, Imagine Dragons, Twiztid, Disturbed, Nirvana, and the Red Hot Chili Peppers.1Come to think of it, a lot of those artists don't have a ton in common with each other, either. Billboard is such a mess. And, even if you wanted to point to the muddy bassline of "all the good girls go to hell" as some kind of sign that Eilish is cultivating a bit of a rock edge, you'd have to ignore her stated desire to collaborate with rappers and R&B artists and push her sound into either of those directions to really insist that she's a rock artist.
Why Wood chose to single out Post Malone and Billie Eilish as peculiarly popular rock acts performing at a predominately pop, hip-hop, and EDM focused festival when The Black Keys, (sigh) Portugal. The Man, and (bigger sigh) Toto are also performing at Life Is Beautiful is beyond me, but it did get me to thinking:
Father of the Bride and WHEN WE ALL FALL ASLEEP, WHERE DO WE GO? are two records that I haven't been able to stop listening to in recent weeks, and I thought my compulsions towards either record were unrelated. But, by mentioning them together, Wood made me realize that Eilish and Vampire Weekend are serving a similar purpose for their respective genres, even though the things that make them different from their peers make them different from each other, as well. In an era defined by homogeneity in both music and music criticism, both artists stand out as a black sheep: one too young to know better and the other too old to care about the direction that popular music is going. And, who knows, they may be just be the antidotes we need to jumpstart a bit of a revolution in pop and rock music. I lay out my case for both of them below.
---
Billie Eilish's sound is unique, but it's hardly unprecedented. Her closest soundalike is probably the aforementioned Lorde, who broke into the pop charts at a similarly young age and with a similar knack for moody and spacious tracks built around understated synths and bassy percussion. Her tragic, almost fatalistic lyrics recall Lana Del Rey, while her aestheticization of suicide and self-harm is reminiscent of the kind of edgelord button-pushing that made stars out of Odd Future and its members, especially Tyler, the Creator, whose breakthrough "Yonkers" video is a clear influence on the visual companion for Eilish's "when the party's over." Although her fashion sense is best described as an ultra modern blend of goth and designer streetwear, her more casual attire (such as the outfits she wears when being quizzed on The Office trivia by Rainn Wilson), certainly owes a bit of a debt to her beloved Avril Lavigne's bubble punk style.
But even though her roots are clearly defined, the end result of this mix of influences flies in the face of how much of mainstream pop music has operated this decade. Chris DeVille credits this difference at least in part to how Eilish has sidestepped the "sanitized children's music" that defined the teenage years of Disney artists like Miley Cyrus, Selena Gomez, Demi Lovato, and the Jonas Brothers, and even non-Disney teen idols like Justin Bieber and Shawn Mendes. Instead, Eilish and her brother, Finneas O'Connell, took advantage of the possibilities of streaming services like Soundcloud and shared with the world their deepest, darkest teenage thoughts without the meddlesome hand of a massive corporation asking them to tone it down.
That makes a lot of sense, and Eilish's unique standing is only further highlighted when one considers how pervasively the Disney ethos has spread to artists who never even came close to starting their career in the House of Mouse. As a family-friendly company, Disney has always strived to keep its artists pure, wholesome, and inoffensive. There's little room for doubt, darkness, or peril beyond petty teenage concerns, or, at least, what a room full of TV writers or songwriters think work as petty teenage concerns. And that wholesome, big tent attitude has been embraced by almost every major pop star from the last ten years, sanding away any promise of bad boy/bad girl appeal along the way. That's not to say that artists haven't tried to embrace a bit of their dark side, but it's rarely gone over and is almost always replaced by a warm, up-with people-attitude.
Consider the trajectories of the decade's biggest pop stars: Lady Gaga, once a herald of weird, chilly club music, abandoned art school quirks for pop classicism starting with Born This Way. Katy Perry, who once posed wielding a switchblade and was at least a little confrontational on early tracks like "Hot N Cold" and the regrettable "Ur So Gay"and "I Kissed a Girl," moved on to hollowly inspirational songs like "Roar" before embracing performative wokeness to garish and embarrassing lengths during the Witness album cycle. Taylor Swift, the picture of Middle American wholesomeness, tried to pivot to dark and sexy with 2017's Reputation before returning to twee last month with the neon unicorn fart that is "ME!" Even Lorde, whose breakthrough single "Royals" hinted at a resentment that might make you think she had a bit of an edge to her, goes to great lengths to make herself sound "relatable," often undercutting the surface level-mystique she tries to construct through her strained metaphors and black lipstick.
If there's one major female pop artist who could be said to be a bit of a "bad girl," it's probably Ariana Grande. The self-styled "dangerous woman" has always sold herself as more of a classic vixen than Gaga, Perry, or Swift, and her flirtations with hip-hop and R&B have leant her music a bit of a sexual edge — tracks like "Break Up With Your Girlfriend, I'm Bored," are amoral and hedonistic and add a sensual, mischievous dimension to Grande's well-established image as a living, breathing hairflip. But the gaudy excess of "7 Rings" and condescending kiss off "Thank U, Next" reveal a vanity that actually makes Grande come off as a little less intimidating, and a little more shallow. Rather than fully earning the "bad" designation, she's really more of a "mean girl" who isn't threatening so much as she's vexing. She can be bought and charmed. Reasoned with, even. She's lawful evil: intent on getting what she wants, but never to the extent of sowing chaos.
Eilish, on the other hand, is chaotic evil. She literally sings about being the "Bad Guy," and even discussed the appeal of such a role in Meaghan Garvey's Fader cover story about her. "'I always wanted to be the bad guy in every game I played" she says when discussing her early childhood. She later goes on in that paragraph to insist that she isn't really the "bad guy" in real life and that the whole thing is just an act, but I'd argue that the deliberate nature of her image and persona makes it even more diabolical.
Being a rich and powerful pop star means that you get to turn the idealized version of your "best self" into a reality and hope, in the process, that a large portion of your potential audience believes that their best self is similar to your best self, leading them to hold you up as a perfect, god-like being and the object of their undying adoration. People will try and improve that best self and use it to forge their own identities and, if they want to become pop stars too, their careers. But the mere fact that you were used as a template is a testament to your power, influence, and continued relevance.
Think about all of the non-Eilish artists I've discussed so far and the way they've re-packaged an older artist's schtick to define themselves: Lady Gaga is art school Madonna. Taylor Swift is Millenial Shania Twain. Ariana Grande is Italian Mariah Carey. They all feed into the same female pop star tradition, either because they want too or because they feel compelled to by market forces. But, by choosing to play the bad guy, Billie Eilish spits in the face of that tradition. Her sound is completely ahistorical, which makes it unconcerned with not only the pop legends of yore but, by extension, her contemporaries as well. Her best self is the thing that kills all of the other best selves, and that bloodlust is the subject of her best songs.
A sharp rebuke to the notion of pop music as something that can save the world, "all the good girls go to hell" is a song about wielding great power and refusing to use it until it's too late, whereas "bury a friend," in which Eilish sings as the monster hiding under her own bed, sees her toy with her helpless victim, seemingly out of boredom. "Bad Guy" puts Eilish in a Grande-esque temptress role, but, rather than manipulating men as a lead up to a moment of pleasure, seems to get off on the emotional distress sowed in the process ("I'm that bad type/Make your mama sad type/mad your girlfriend mad type/might seduce your dad type"). But the real coup de grace (or, in this case, coup d'etat?) comes in the form of "you should see me in a crown."
While Lorde deployed similarly regal language in "Royals" to express her disaffection with the vapid materialism pushed by modern pop and hip-hop, framing herself as a relatable alternative for everyday listeners who weren't interested in aspiring to an unattainable lifestyle, Eilish uses similar imagery to show that she isn't interested in being an alternative; she's interested in being a replacement. Images of blood being spilt on marble, subjects bowing, and victims being made to scream feel a lot more like a Game of Thrones power grab than an invitation to celebrate the ordinary, and it makes for a much more thrilling song as well. On this track, Billie Eilish makes it clear that she isn't a successor to Lorde or anyone else in the long pop tradition — she's a usurper determined to recreate the world in her own image.
We've seen this kind of contempt for tradition before, namely in the nu metal explosion of the late 90s. In Chuck Klosterman's Fargo Rock City, Korn bassist Fieldy brags "I've never owned a Beatles record. I've never even listened to one. The Rolling Stones, Led Zeppelin — these bands haven't influenced us in any way. Nobody in the band ever listened to that stuff. Our musical history starts with the Red Hot Chili Peppers and early Faith No More." As revealed in an early interview with Paper, Eilish has, in fact, listened to the Beatles, but one gets the feeling that you could easily swap out The Rolling Stones and Led Zeppelin for Madonna and Mariah Carey and Red Hot Chili Peppers and Faith No More for Green Day and Avril Lavigne to capture the spirit of her influences.
I won't be surprised if people begin to draw parallels between Eilish and Korn and other nu metal artists, not only because they both scoff at tradition, but because they both trade in macabre, violent imagery. But nu metal has always felt like it was about the cycle of victimhood and revenge, a bunch of ugly and unpopular kids exercising their childhood traumas through downtuned guitars and bad beatboxing — cathartic, perhaps, but not exactly empowering. Billie Eilish, on the other hand, is all about empowerment. Not empowerment through the kind of gauche self love espoused by Ariana Grande or the rah rah acceptance politics of Katy Perry, but the kind of power one gains when they throw off the old guard and the mainstream in favor of forging their own path and seizing control of their destiny.
By refusing to conform to the strictures of modern pop, Eilish is helping destroy them, and, in the resultant void, creating something new. Who knows how successful she'll be — the forces she's pushing against outnumber and out earn her (for now). But the pop crown is always up for grabs, and, as the stars of the 2010s begin to age and audiences become bored of their once effective formulas, they'll look in another direction, and when they do, Eilish will be waiting for them, sitting on her self-fashioned throne.
---
The same day Vampire Weekend released Father of the Bride to much fanfare and critical acclaim, the Just Like Heaven music festival staged its first day of shows. Featuring artists like Phoenix, Yeah Yeah Yeahs, MGMT, Grizzly Bear, and Passion Pit, Just Like Heaven seemed to be built on the presupposition that, as Ian Cohen put it, "2009 was your idea of heaven." And, if you were a stylish twenty-something playing in a Brooklyn-based band, it probably was.
The mid-to-late 2000s witnessed the rise of "blog rock," a half descriptive, half derisive term for a host of indie bands that rose to prominence after being written about on MP3 blogs like Stereogum, Brooklyn Vegan, and Gorilla vs. Bear. Some of these groups, like Black Kids or Clap Your Hands Say Yeah, would fail to sustain the initial hype that surrounded their debuts while others, like Dirty Projectors, Grizzly Bear, and Animal Collective were embraced as serious artists shaping the future of rock. Still, some others, like Passion Pit and MGMT, managed to find some crossover pop appeal.
This was the musical landscape that Vampire Weekend was born into, and it was one that, against all odds, they would end up outliving. A quartet of well-off Columbia students who eschewed the leather jacket and skinny jeans wardrobe of "return to rock" groups like The Strokes in favor of Oxford shirts and boat shoes, Vampire Weekend looked like they were custom built to piss off anyone who ever espoused the virtues of "real" rock and roll — and that impression would only be compounded by the time anyone got around to hearing their music. Their self-titled debut was defined by clean, sprightly guitar lines aped from Afro-pop and Paul Simon's own aping of Afro-pop, jaunty rhythms, and Ezra Koenig's winking, brainy lyrics about oxford commas and Louis Vuitton– a far cry from the decadent, shambolic music that defined albums like Is This It and Fever to Tell.
Needles to say, using sounds from the most impoverished continent in the world to tell stories about the wealthiest people from the wealthiest continent in the world rubbed some people the wrong way and sparked accusations of appropriation and culture baronism. But, most of all, people where just upset that a bunch of clean cut Ivy League preps where butting into what was a supposedly a gritty and egalitarian scene. Jessica Hopper griped that "Indie rockers are supposed to be grubby proles, not graduates of Columbia University" and argued that the emphasis placed on lead singer and songwriter Ezra Koenig's Jewish heritage and multi-instrumentalist Rostam Bantmanglij's status as an Iranian-American was "the Pitchfork-nation equivalent of 'some of my best friends are black.'" Others simply couldn't comprehend that people found their music enjoyable. "I can't imagine young kids…saying 'I love Vampire Weekend so much. I'm so excited for them,'" one blogger opined in Meet Me in the Bathroom, Lizzy Goodman's oral history about the 2000s New York indie rock scene "…and if they are, they should be punched in the face."
There are two rich ironies to these complaints. The first is that most of the bands who emerged from the grittier Manhattan scene of the earlier 2000s were, much like Vampire Weekend, either wealthy, well-educated, or both. The Strokes would not exist if Julian Casablancas was never enrolled in the Dwight School, Lycee Francais de New York, and Le Rosy at different points in his life, and Interpol were a bunch of NYU kids who wore suits everywhere they went. Yeah Yeah Yeahs founders Karen O and Brian Chase met at Oberlin, and DFA Records was funded by a trust fund kid described in Meet Me in the Bathroom as a "patron of the arts." In other words, the "real" rock bands whose rough and tumble spirit Vampire Weekend's unapologetic affluence was allegedly offending weren't "grubby proles" at all, they were rich kids pretending to be the Ramones.
The second irony is that, for as wispy and foppish as their earlier music may have sounded at the time, Vampire Weekend are one of the only indie rock bands of 2000s to endure.
Let's run down the list, shall we? After releasing two classic, nearly identical sounding albums back to back, The Strokes put out First Impressions of Earth to a tepid response, followed by two albums and an EP, the response to which wasn't tepid so much as non-existent. Interpol can still draw a crowd but have more or less been releasing Turn On the Bright Lights under different names since 2002. Yeah Yeah Yeahs snagged the limelight and a Grammy nomination when they embraced bloggy synths and drum machines on 2009's It's Blitz!, but haven't released an album since 2013 (Karen O's been busy with other projects). LCD Soundsystem threw themselves a showy retirement party only to unretire five years later, and their subsequent comeback record felt more nostalgic than groundbreaking. MGMT gambled that the audience they had won over with wistful synth pop would stay with them on their proggier, more psychedelic journeys and lost. Animal Collective's Merriweather Post Pavilion was given Album of the Year honors by almost every major publication in 2009, but the group has failed to release anything as noteworthy since. Grizzly Bear and Dirty Projectors both had their moments in the sun, but recent releases have failed to ginny up any real interest (and are almost always accompanied by a think piece about how they represent a bygone era). Arcade Fire looked like the ultimate indie success story when The Suburbs won the 2011 Album of the Year Grammy, but their two most recent albums range from overstuffed to downright embarrassing.
Vampire Weekend, on the other hand, have only improved on and expanded their sound with each successive release. They followed up their 2009 debut with 2010's Contra, where they pulled off the neat trick of simultaneously expanding their musical palette and distilling it to its purest elements. "Giving Up the Gun," with its dense, propulsive, yet tasteful bassline proved that they were better than the rest of their blog rock brethren at integrating electronic textures into their sound, "Cousins" featured the rawest, most blistering sounding guitars that could said to have been inspired by Graceland, and, by deconstructing both their sound and 1%-er image on "I Think Ur a Contra," proved that they were more than just a couple of pretty faces with a gimmick,
Having already established that they were a very good pop band that deserved the buzz, Vampire Weekend went for broke three years later with Modern Vampires of the City, in which they traded in their bouncy guitar tracks about preppy girls for misty pocket symphonies about death and religion. Even though it was released before most people had realized that the indie bubble had completely burst, Modern Vampires still set the band apart from its contemporaries by demonstrating that they weren't just consistent, but that they were capable of growth, mainly by reflecting a sense of ambition that most of their peers lacked. I'm not the first person to make this declaration, but it certainly feels like Modern Vampires is the first record where Vampire Weekend went from being a "band" comprised of four people to a "project" becoming increasingly dominated by Koenig and Bantmanglij. This reinvention shed whatever remaining stigma surrounded them and bought them their highest level of critical esteem, taking the number 2 spot in The Village Voice's 2013 Pazz and Jop poll (behind only Kanye West's Yeezus) and winning the Grammy Award for Best Alternative Music Album.
In hindsight, it appears that the critical and commercial success of Modern Vampires represented a sort of apex for Vampire Weekend's era of indie rock. As bands like Arcade Fire and Animal Collective began to put out middling releases that garnered either middling publicity or none at all, the press increasingly turned their attention towards hip-hop and R&B, and the indie rock "scene" began to splinter, becoming a less and less ubiquitous part of popular culture.2This is the part of the piece where I clarify that, no, I am not implying that rock "died" or is currently "dying," and that I like a lot of the bands that I will appear to complain about in the following sentences. But the hard truth is that most modern rock artists don't hold the same level of cultural clout as the bands that were popular in the second part of the 2000s or the early part of this decade. I love Snail Mail, but her music isn't going to be played in a car commercial or featured in an episode of a popular TV show. Nowadays, it seems like the only rock artists that opportunity is afforded to is Tame Impala, who have slowly morphed into a pop act, and I guess The Black Keys, who certainly don't qualify as indie rock. The musical landscape Vampire Weekend finds themselves in is much different than the indie rock boom times they initially broke into — oftentimes, it doesn't really feel like a coherent landscape at all.
The way I see it, indie rock has split into four quadrants: The first are the traditionalists — artists like Courtney Barnett, Kurt Vile, and The War On Drugs whose music is heavily indebted to classic rock, especially that of Tom Petty and Bob Dylan and whose lyrics are usually abstract and impressionistic or chronicle the life of what some old person might describe as a "slacker." Then there's the morose, largely female-driven sad girl contingent that uses music as a means through which to process trauma and heartbreak. This group splits into two different factions, with the punk and emo indebted acts like Snail Mail, Mitski, and Hop Along on one side of the spectrum, and those with a bit more twang, like Julian Baker, Lucy Dacus, Phoebe Bridgers, and Julia Jacklin, on the other. Then there are those mostly male bands who are aggressively cathartic, who may also be processing trauma and heartbreak but do so in a much louder fashion. I'm thinking particularly of groups like PUP, Titus Andronicus, and Jeff Rosenstock, all of whom try to exercise personal and political demons through crashing power chords and shout-along choruses. Finally there's the nihilists– straightforward post-punk revivalists who aren't sad so much as passively miserable, disillusioned by society's bigotry and greed. Think Shame, Parquet Courts, Protomartyr, Ought, and Priests.
Each of these four quadrants contain some great artists, many of whom I consider current favorites and who have ended up on my end of year lists. But, if I'm being completely honest, their work can take an absolute boatload of emotional energy to consume, and that can sometimes take the "fun" out of listening to them. As impressive and powerful of an album I find Snail Mail's Lush to be, it's not exactly the kind of record I'm going to listen to if I just want to chill out or, I don't know, hang out on a porch or something. And as conductive as I've found Titus Andronicus's music to be for having a "good time" (read: getting really drunk on cheap beer), sometimes I just want to have a good time, and not simultaneously mourn and celebrate being young and from New Jersey. Sometimes I just want to listen to something…pleasant.
That Father of the Bride could be described as generally pleasant makes it perhaps the most striking rock album of the year. That, and, well, the fact that it doesn't sound like anything else in indie rock right now. It's an unapologetically earthy and rootsy album inspired by jam bands like Grateful Dead and Phish that substitutes the irony and satire found in much of Vampire Weekend's catalogue for much more earnest expressions of fear, uncertainty, and gratitude. The end result is an album that feels mature in both its pensive outlook on the outside world and in its absolute lack of fear of sounding square or corny. "Harmony Hall," the album's lead single, opens with a noodly acoustic guitar before taking flight via a boogeying piano and a pair of congas, all while Koenig meditates on populist politics, resurgent anti-semitism, and corrupt politicians, and "This Life," perhaps the most danceable, upbeat sounding song on the record, interpolates a dour iLoveMakkonen hook that would no doubt cause oblivious revelers to do a double take. Other songs, like "2021" and "My Mistake," expand on Batmanglij's experiments with electronics and sampling that he first implemented on Modern Vampires,3Batmanglij officially left Vampire Weekend in 2016, but made some contributions to Father of the Bride. while the tracks featuring duets between Koenig and Danielle Haim bring to mind Johnny Cash and June Carter and their most playful and sardonic.
I could go on, but the point is that, even though Father of the Bride is, in many respects, an inherently nostalgic album, its particular brand of nostalgia makes it sound fresh, as does the fact that I want to host a barbecue just so I can listen to it outdoors with a bunch of people.
This isn't to say that there aren't heavier, more emotional moments on the record. "Unbearably White," a song that may have become my favorite Vampire Weekend song of all time, is a gentle, wistful, and absolutely heartbreaking ballad about a deteriorating relationship, and the aforementioned "My Mistake" is all about the foolhardiness of assuming the best of people ("Hoping for kindness/Was my greatest mistake"), and a general sense of lyrical darkness permeates most of the lighter sounding tracks. And yet, Father of the Bride also makes room for tracks like "Stranger," which reminds us that we can still find a source of warmth and peace from the our loved ones, even in these troubling modern times of ours, and the playful scatting of the Steve Lacy featuring "Sunflower."
Father of the Bride is a comforting album, but it isn't condescending. It calls on us to find within each other and, true to the jam bands that inspired it, the infectious power of music, the strength to face down fear, despair, and uncertainty. That's a far way off from Lucy Dacus singing about being at peace with death and the sweet relief of never being complete and honestly, thank goodness. Vampire Weekend's approach may be a little more kumbaya, and maybe a little naive and precious to some, but it's simple pleasures are hard to deny. We should be concerned with the direction the world is headed and what kind of a future that'll leave for our children, sure — but that shouldn't preclude us from having some fun and cherishing what we have now, either.
---
Context is everything in music criticism. Read a review of any major release, and you're bound to find references to where the album was recorded, what changes an artist went through between the release of one record and another, and some attempt to tie it to the grander socio-political moment. Critics do this because, often times, it's less work than drawing up some kind of narrative out of whole cloth. It's much easier to read into what a song may be about when you know what the person who wrote it was going through or why certain artistic choices were made given the location of its recording. But, for some albums, context is also what makes an album stand the test of time. If it were released today, Nevermind would just sound like an above average album by an alternative rock band with punk influences. But since it was released in 1991, it upended the music industry by putting the nail in hair metal's coffin and making "alternative rock" a mainstream phenomenon.
I'm not going to claim that either WHEN WE ALL FALL ASLEEP WHERE DO WE GO? and Father of the Bride will have the kind of impact Nevermind had. But, as I've tried to lay out, I feel like they have similar zeitgeist busting qualities. Of the two, Eilish's record will have a larger reach on pop radio and appeal more to teenage listeners who determine what's popular and marketable. A few attention-grabbing performances during award show season and her Calvin Klein commercials could raise her profile even further, and at that point it may just be a matter of time before both new and established pop artists try to follow her lead by going darker and weirder.
The potential influence of Father of the Bride is a bit harder to project. In May, Vampire Weekend became the first act to have three Billboard Number 1 Albums and zero Hot 100 hits, so it's not like I expect guitar bands to start showing up on the radio anytime soon. And given how few bands tried to replicate their Cape Code kwassa kwassas the first time around, I don't exactly anticipate a new crop of bands to start naming Jerry Garcia and Trey Anastasio as seminal influences to their work, either. But, given the album's expansiveness and ambition, I wouldn't be surprised if it begins to refurbish indie rock's image in the eyes of critics. Records like My Beautiful Dark Twisted Fantasy, channel ORANGE, good kid, m.A.A.d. City, and Beyonce helped steal the headlines from indie rock at the start of its decline in even the most independent minded of outlets. I'm not saying Kendrick Lamar and Beyonce will be entering a "decline," per se, but given Kanye West's political and artistic descent and Frank Ocean's less than prolific output, there's a case to be made that, given Father of the Bride's acclaim, the looming release of Tame Impala's new album, and the rise in profile of artists like Snail Mail and Mitski, there's reason to believe that indie rock can win back some of the momentum it lost in the music press tug of war.
There are already some signs that this may be happening. When Mitski's Be the Cowboy was named the best album of 2018 by Pitchfork, it became the first rock album to receive such an honor from The Most Trusted Name In Music since…Modern Vampires of the City in 2013.4The albums that got the top spot in the interim: Run the Jewels' Run the Jewels 2 (2015): Kendrick Lamar's To Pimp a Butterfly (2015) and DAMN. (2017), and Solange's A Seat at the Table (2016). I'm not sure Father of the Bride will achieve the same feat and, given how counter it runs to most current indie rock, I don't know that it doing so would necessarily be a huge booneto more underground bands. But the conversation around pop and rock music has felt fairly rote the last half decade or so — at the very least, the success of such an album would shake up a lot of the assumptions we have about the current musical landscape. And isn't shaking up assumptions what Vampire Weekend did when they broke out ten years ago? Isn't that what Billie Eilish is trying to do right now? Isn't that what we should demand of our artists in the first place?